Nishtar College of Nursing is a part of Nishtar Medical University previously known as Nishtar Medical College was established in 1951 and named after a leader of the Muslim League, former federal minister and Governor of Punjab Sardar Abdur Rab Nishtar. Nishtar Medical University (formerly Nishtar Medical College) is a public sector health science university in Multan, Punjab, Pakistan. It is one of the oldest medical institutions established after the founding of Pakistan. It offers courses in medicine, dentistry, related health sciences, and nursing. It is named after Sardar Abdur Rub Nishtar, the leader of the Pakistani movement and later governor of Punjab, Pakistan.
Nishtar Medical University has a Constituent college by the name of Nishtar College of Nursing which is responsible for education in Nursing. Nishtar College of Nursing offers Bachelor's of Science in Nursing (BSN) and Post RN Bachelors in Nursing (Post RN BSN) as it's programs.
Programme Offers:
Bachelor of Science in Nursing (Generic BSN)
Post RN
This is a four year course that you practice as a registered nurse. The course promotes integrated nursing knowledge, skills and professional demeanor. Upon completion of this program, the graduate is ready to become a nurse. BSN students, after completing a one-year internship, can enroll with the Pakistan Council of Nursing according to the PNC internship guidelines and must pass the PNC license exam.
Bs programs in Nishtar Medical College
To enroll into the program of Bachelor In Nursing prospective students must meet the eligibility criteria set by Nishtar College of Nursing which is that they must have cleared their F.Sc by at least 50%, they must be within the age bracket of 17-25, the program is available only to females at the moment, they must have a domicile issued by the Punjab Government, must clear the interview held by Nishtar College of Nursing, and the students must be bachelors as married or divorced candidates will not be considered.
Qualification:
FSc. Pre-Medical
Minimum Marks: At least 50% marks
Age Limit:
17-25 years on 30th October 2022
Gender:
Domicile:
Only those who have domicile from Punjab
Marital Status:
Only unmarried. Married and divorced will not be considered as eligible for this program.
Required Documents:
Two attested copies of Matric certificate and mark sheet
Two attested copies of FSc certificate and mark sheet
Two attested copies of CNIC or birth certificate
Two attested copies of your domicile
And two attested copies of character certificate from previous academic institute
Note: Interview that will be held at Nishtar College of Nursing is compulsory for admission criteria. All candidates are informed without appearing in the interview admission will not be processed.
Post RN Bachelor's in Nursing
The two-year course is designed to prepare nurses to acquire in-depth knowledge and skills and to develop professional independence, self-control and critical thinking.
Eligibility Criteria Of Post RN:
The students wanting to apply to Nishtar College of Nursing for the program of Post RN BSN would have to fulfil the following criteria: they would be required to have completed Matriculation with Science, a diploma in nursing, a diploma in midwifery, and one year of clinical experience.
The program is available to female candidates and requires that they have a domicile issued by the Government of Punjab and are unmarried.
Passed Matriculation with Science
Diploma in Midwifery
One year of clinical experience
Candidate needs to be Female Punjab Domicile.
Stipend:
Students of 4 Years Generic BS Nursing will receive a monthly stipend of BS-17.
Internship:
At the completion of 4 years of BS, Nursing students must have to complete one year of internship without any stipend.
How to apply in Nishtar Medical College:
Admission forms and prospectus are available at the College of Nursing Nishtar Medical University Multan at the cost of 500 Rs during official timings.
Last Date to apply:
Last Date to Apply: 06 November, 2023.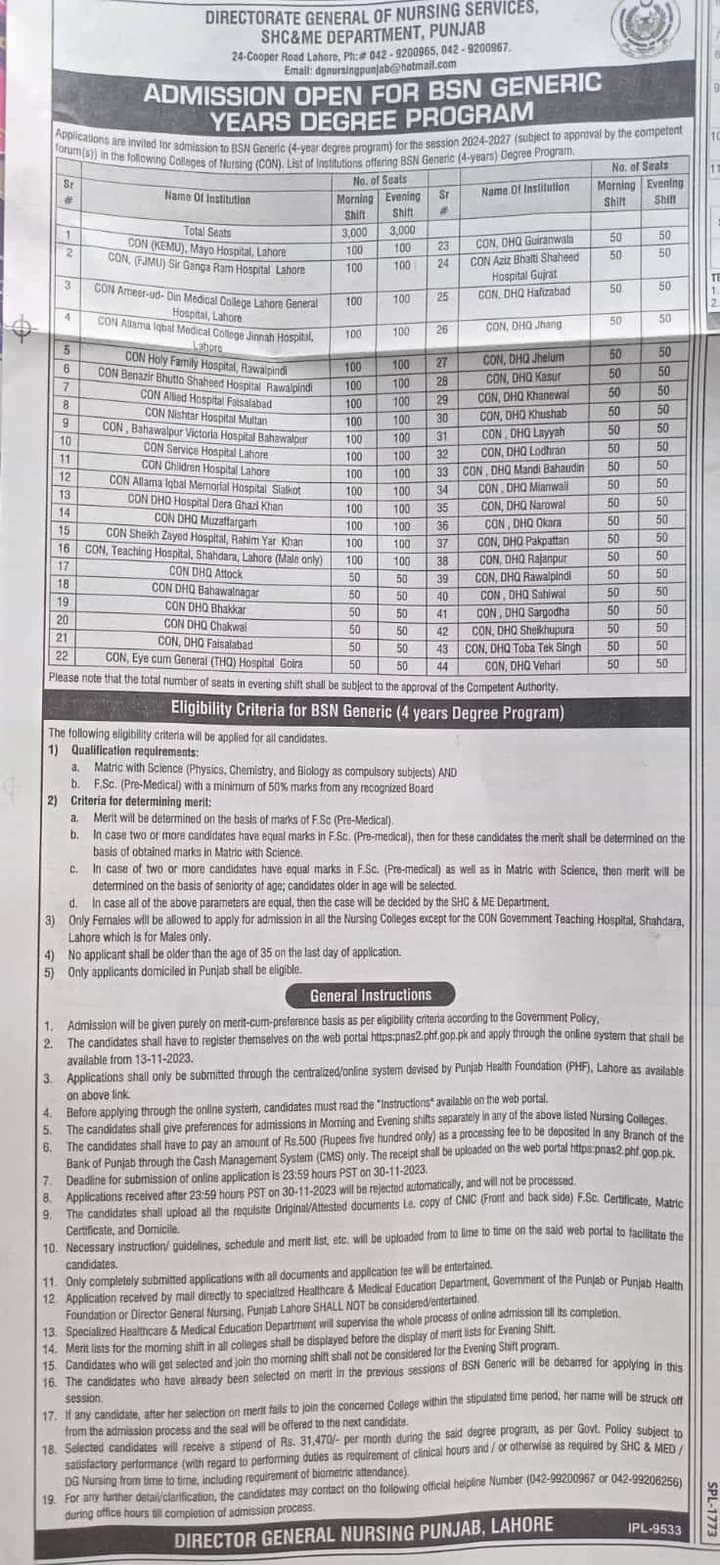 Contact information of Nishtar College of Nursing
061-9239569