Isra School of Nursing Admissions for Post RN 2024:
Isra School of Nursing is a part of Isra University. It is recognized by Higher Education Commission (HEC) and registered with Pakistan Nursing Council (PNC). And also, this is one of the best nursing schools in Pakistan. According to the List of PNC Recognized Nursing Institutions, Isra School of Nursing only offers a Bachelor of Science in Nursing and Post RN. From here on Isra School of Nursing Admissions 2024 opens. The applicant can submit their form formPost RN by 05 September-2023 to 10 January 2024 in Hyderabad Campus.
In addition, Isra University is a private university, legislated by the Isra University Act of 1997, located in Hyderabad, Sindh, with more campuses in Karachi and Islamabad. As well as that, It is a non-profit organization owned by the Isra Islamic Foundation and certified by the Pakistan Centre for Philanthropy. Along with, The university offers programs in medicine and allied medical sciences, dentistry and allied sciences, engineering science, technology, commerce, economics, management sciences, and nursing.
Bachelor of Science in Nursing (BSN)
This program is a four-year degree, it aims to equip students with capabilities to become knowledgeable nurses. Moreover, After these four years, students are ready to give their PNC license exam and become an RN.
Eligibility Criteria of Isra School of Nursing for BSN:
Students looking to enroll themselves with Isra School of Nursing must fulfill the criteria set by Isra University to do which is that they must have completed their F.Sc from the Pre-Medical domain with at least 50% marks. Importantly, they must clear the test taken by Isra University which is divided into two parts consisting of a written test and an interview.
Male and Female both can apply.

F.Sc (Pre-Medical) with 50% marks

Pass Written Test

Pass Interview
Post RN Bachelor of Science in Nursing (Post RN BSN)
The Post RN-BScN program is a two-year program designed to provide experienced registered nurses a chance to accumulate in-depth knowledge and skills needed to practice nursing care as clinically competent profession.
Eligibility Criteria:
The eligibility criteria for the program of Post RN BSN requires applicants to have cleared their Matriculation from the Science group, also, have completed their Diploma in Nursing, have one year of any post basic specialty diploma in nursing, have two years of experience working as a nurse. In Particular, Applicant should have a valid registration with PNC, and pass the interview and test conducted by Isra College of Nursing
Matriculation (Science),
Diploma in Nursing,
Two years of clinical experience
Clear test and interview Valid PNC Registration.
Fee Structure of Isra School of Nursing 2023
The fee structure for both these programs is the same. Furthermore, they are broken down into 3 parts which are the admission fee, university fee, and tuition fee. Students willing to sign a bond with Isra University stating that they would work for the institution for 4 years after graduation may get these fees removed, receive board at their hostel, and receive a monthly stipend
| | | |
| --- | --- | --- |
| Fee Type | Category A (No Bond) | Category B (4 Year Service Bond) |
| Admission Fee (One Time) | Rs.25,000 | No Fee + Monthly Stipend+Hostel |
| University Fee (Annual) | Rs.20,000 | No Fee + Monthly Stipend+Hostel |
| Tuition Fee (Annual) | Rs.125,000 | No Fee + Monthly Stipend+Hostel |
How to Apply?
Students looking to apply to the Isra School of Nursing may do so by applying online at https://admissions.isra.support/. Students may also visit the Hyderabad campus at Hala Road, Hyderabad, Sindh, and the Islamabad campus at Al Nafees Medical College and Hospital Road, Phase 2, Islamabad.
Last Date to Apply:
Form are available
Last date to apply is 15 December 2023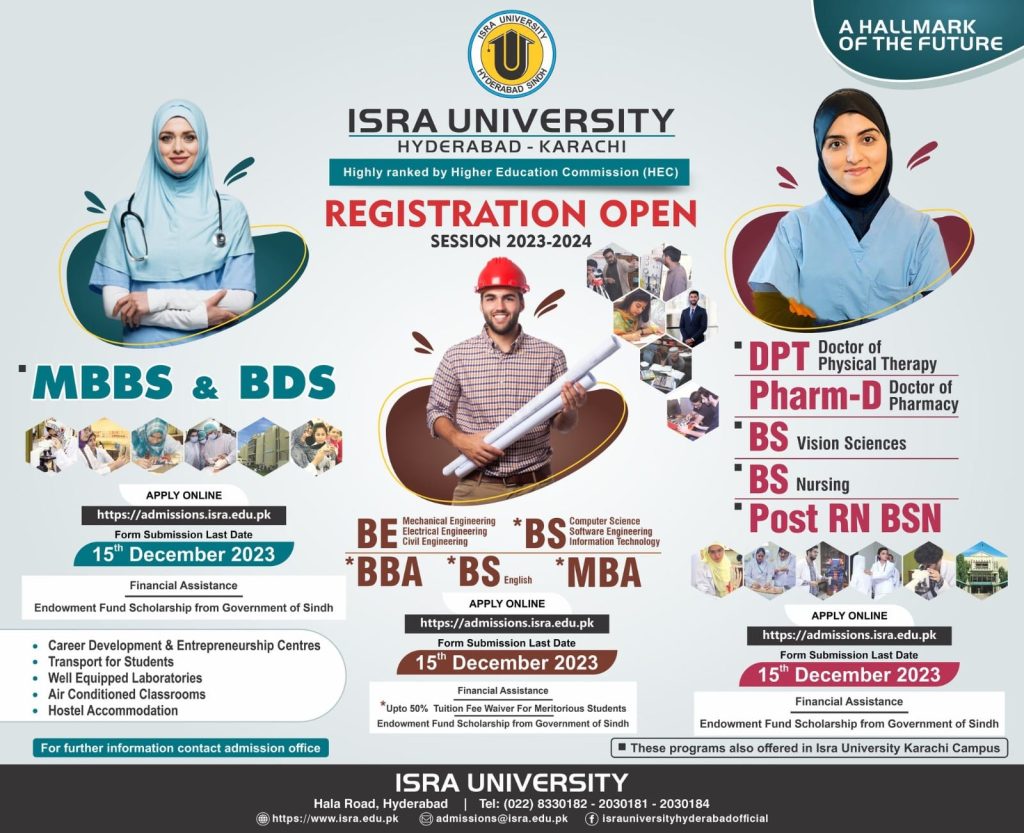 Email: [email protected]