Rashid Latif Medical Complex is comprised of multiple institutions related to healthcare. The beginning of the complex was made through the establishment of Rashid Latif Medical College affiliated with the University of Health Sciences in 2010 and hosted 100 students in its first MBBS batch. It also has Teaching Hospital Campus consists of 600 plus beds and comprising all major specialties and facets of the medical field under the services of one of the best faculty in Lahore. Arif Memorial Hospital is a purpose-built hospital and provides much-needed healthcare facilities to the surrounding population in all major disciplines. The hospital has OPD, Diagnostic, inpatient/outpatient treatment facilities along with 24 hours emergency services. Arif Memorial Hospital is also recognized by CPSP for post-graduate training in the field of Surgery, Medicine, Obstetrics & Gynecology, Paediatrics and Ophthalmology. Arif Memorial Hospital is an ISO 9001:2008 certified Hospital that is in its 9th year of Operations. Built on 28 acres on Ferozpur Road, Lahore
Programs Offering
Bachelors of Science in Nursing Generic BSN (4 Year Degree program)
Eligibility Criteria
The guiding philosophy of the BSN Program is based on the College of Nursing's values: collaboration, social responsibility, integrity, respect, accountability, diversity, and excellence.
Entry Requirements: 12 Years of Education, Matric Science, F. Sc. (Pre-Medical) / Equivalent with 50% minimum
marks.
Hostel Facility
Hostels at RLMC offer separate wings for both male and female students. The hostels are located on-campus and offer students a safe, secure and comfortable environment, enabling them to focus on their education and personal development to become competent doctors of the future. The hostels offer both shared (double and triple) occupies as well as single occupancy rooms with shared bathrooms. Each hostel wing will have its own kitchen, dining room and common rooms for group study and recreational purposes (table tennis, carom board, etc).
Last Date to Apply
Last date to apply is 20 November,2023.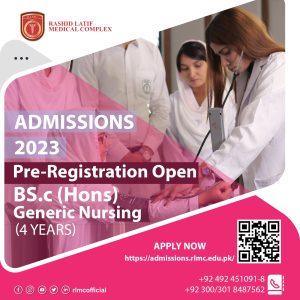 Address: