The New Life Institute of Nursing is the project of (New Life) that started in Multan on October 2014. It was the vision of Mr. Sarfarz Asif CEO of NLIN which was executed by the continuous efforts and hard work of Mr. Aqib Dil Awaiz Admin/Principal NLIN. The 1st New Life School & College of Nursing was established in 2005 in Karachi, The New Life Institute of Nursing is one of the best nursing education institutes in Multan and contributed the society with the best nursing graduates who are working around the world. The NLIN Multan is offering 02-Years Post RN B.Sc. Nursing, 04-Years Generic BSN, 01 Year Post-Basic Specialization in Paradis Nursing program recognized by (PNC) Pakistan Nursing Council also affiliated with University of Health Sciences Lahore & Nursing Examination Board Punjab. The NLIN is having MOU for Clinical attachment with City Hospital Multan, Khurshed Rafiq Hospital, and Children Hospital Multan we have also done the MOU with 'Chughti Lab' for the clinical investigation and learning about the lab environment for our students and faculty. So far more than 400 students have graduated from NLIN with remarkable results and positions at UHS and NEBP.
Offering Programs:
The New Life Institute of Nursing offering programs are
BSc-N (Generic 4 Years)
Post RN (BSc-N)
Post Basic Specialization in Pediatric Nursing
Eligibility Criteria of Bs In Nursing:
F.sc Pre medical with minimum 50%
Matric with science
Age 14-35.
Eligibility Criteria of Post RN:
those Who already done 3 year diploma in Nursing
& 1 year Midwifery or Specialization.
Eligibility Criteria of ICU:
Those who already Done Diploma In Nursing.
Last Date to Apply:
Last date to apply is 10 November 2023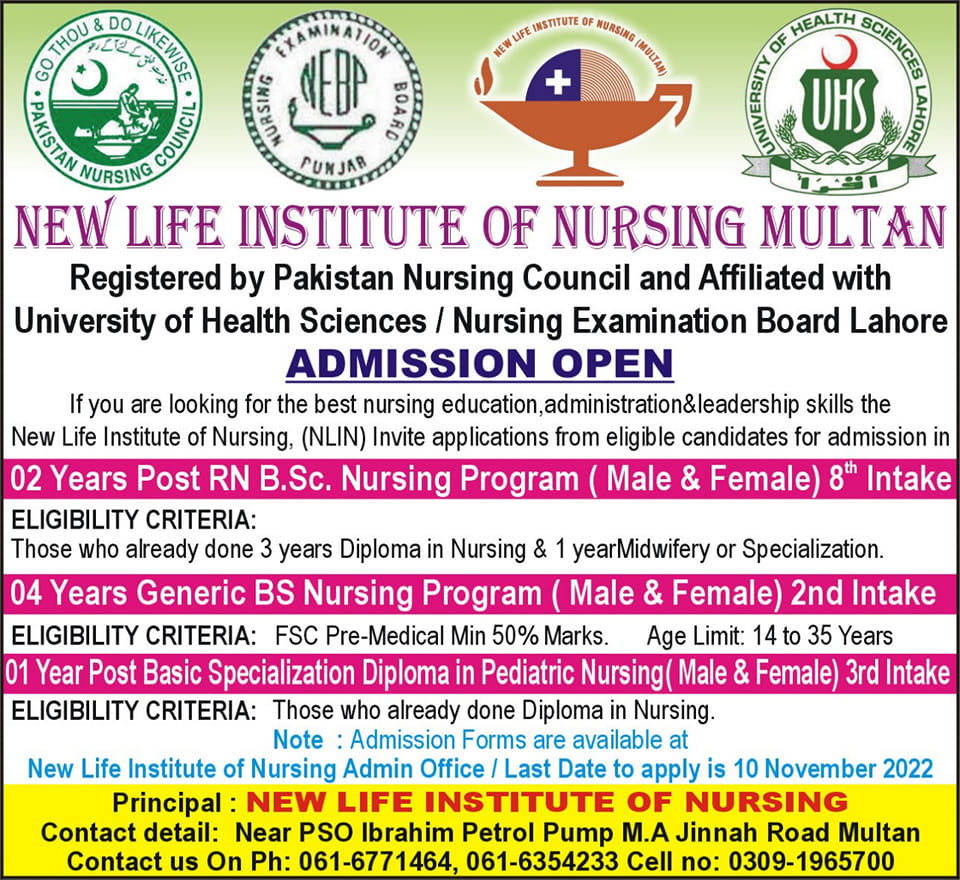 Address:
M A Jinnah Road, Qaiserabad, Multan, Punjab, Pakistan