IQRA University Introduces Nursing Bachelor's Degree (BSN)
Nursing is an energizing and increasingly complex field that is frequently referred to as the noblest profession in recent times. Nurses can work alongside doctors or as self-contained patient attendants. It has also become one of the most sought-after professions as a result of recent global health challenges. All in all, nurses can be considered the heart of healthcare.
All About Nursing Bachelor's Degree (BSN)
The increasing importance of BSN Degree
Today, both the nursing profession and some employers are encouraging registered nurses (RNs) to pursue a Bachelor of Science in Nursing (BSN) degree in order to improve safety and prepare for future healthcare challenges. The RN program teaches fundamental nursing skills with an emphasis on nursing theory and clinical practice, whereas the BSN program expands on this.
A BSN degree educates aspiring nurses on topics such as patient care technology, research, health promotion, safety, and quality in the healthcare system.
What exactly is a BSN in Nursing?
BSN is an abbreviation for Bachelor of Science in Nursing, and it refers to a person who has completed a bachelor's degree in nursing. It frequently comes before the Master of Science in Nursing (MSN) program, which is open to BSN nurses who want to advance in their careers.
Earning a BSN allows you to advance your nursing skills and stand out in the job market, and it can also increase your employment opportunities, according to the Nurse Journal. According to a 2021 survey, the average job offer rate for BSN graduates was 76 percent. When BSN graduates four to six years old are considered, the job offer rate rises to 93 percent.
Outcomes of completing BSN From IQRA University:
The quality of education IQRA University has provided throughout the years is commendable. For this reason, they confidently say that candidates who enroll for their BSN Program will be capable of:
Understanding professional practice standards, evaluating that practice, and accepting responsibility and accountability for the outcome of practice
Demonstrating dedication to providing high-quality, safe, and effective patient care
Putting a plan of care into action within the legal, ethical, and regulatory framework of nursing practice.
Taking part in life-long learning
To Wrap Up
If you aspire to become a nurse, we hope this blog was helpful for you. If you want to know about the admission policies and criteria of IU admissions for BSN, you can visit IQRA University's website or call their helpline.
Last Date to Apply:
last date to apply is November, 2023.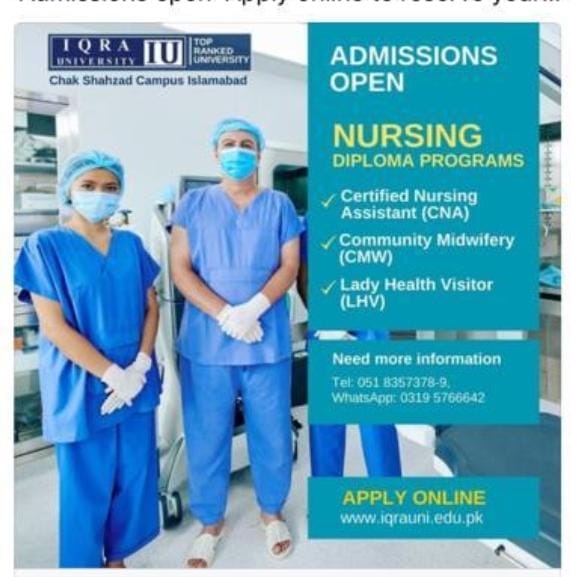 Address: 5 Khayaban-e -Johar, Sector H-9/1 H 9/1 H-9, Islamabad, Islamabad Capital Territory.
(021) 111-11