BS Nursing Eligibility Criteria
An intellectual and genius students with high % of marks can gain admission in BS nursing at KMU.
FSc (pre-medical) with 50% marks
ETEAT obtained marks
Age should be no more than 25 years
Total Seats available for one session are (50).
Fee Structure
Student have to pay 82,500/ per semester including Admission fee, medical charges everything.
Last Date to Apply
Admission forms available from: 15-08-2023
Last date to submit forms for KMU Test: 01-09-2023
Display of provisional merit list of candidates:15-05-2023
Queries submission: 19-09-2023
Commencement of regular classes: 02-10-2023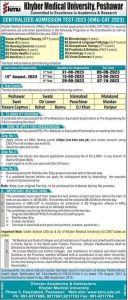 Address
Tarial Kalan, Lehtar Road Islamabad
PH No: 051-2240151-2
Website http://ihsisb.Kmu.edu.pk