The University of Faisalabad (TUF) was established to cater to the educational and technological needs emerging in the progressive scenario of the country in general and surrounding areas in particular, with a missionary spirit, commitment and enthusiasm in line with the vision of its founders.
The distinguished Faisalabad University aspires for an appropriate balance between the emerging disciplines of science and technology and prevalent fields of humanities and social sciences. The History of TUF shows that it is approved as a degree-awarding University by the Government of the Punjab, Law and Parliamentary Affairs Department vide Punjab Ordinance No LX of 2002. The Higher Education Commission recognizes it as a degree-awarding University.
Programs Offering
Generic BS Nursing (4 year Degree program)
Post RN BS Nursing (2 year Degree program)
Eligibility Criteria for BS Nursing
FSc. (Pre Medical) with minimum 50% Marks in Biology, Chemistry, & Physics.
Age limit: 18-35 Years.
Gender: Both
Entry test: 60% Marks.
Fee Structure for BS Nursing
| | |
| --- | --- |
| Admission fees (one time) | 30,000 |
| Tuition fees | 4,734/ |
| Registration fees | 300/ |
| Examination fees | 300/ |
Eligibility Criteria for Post RN
3 Years Diploma in General Nursing
1 Year Diploma in Specialization Cardiac Nursing / ICU
1 Year Clinical Experience Certificate
Age Limit: No
Gender: Both
Entry test: 60% Marks
How To Apply
A candidate can apply for admission through the online admission portal.
Prospectus is available at www.tuf.edu.pk.
The applicants are encouraged to read the information carefully before applying online.
Click on "Apply online" available at the header of the website.
A page will appear asking for registration using your email id and password.
Rules Governing Rules
Scholarship will be paid to supplement tuition fee only. All other charges (where applicable) will be paid by the student.
A student will be eligible for one scholarship only. In case a student is eligible for two or more scholarships, the one with
highest amount will be awarded and the rest will be withdrawn. However, kinship will be attached to any other scholarship (if
applicable).
It is mandatory for every scholarship holder to finish his/ her enrolled program in the prescribed minimum duration of the
program. No extension of award will be provided beyond the standard duration of the course/degree as well summer
semester.
For the entitlement of sportsmen/women scholarship, candidate must have certificate from concerned department/sports
organization. Trial test will be conducted by TUF Sports Department to determine the eligibility for the scholarship.
Award of scholarship will be withdrawn if
Attendance falls below 75%
The GPA/CGPA falls below the prescribed limit as mentioned in each clause
The student gets "F" grade in any subject
If student is involved in any disciplinary case i.e involvement in political, unethical and anti-state activities etc.
However the restrictions mentioned in clause "e (i) & (ii)" will be removed in that respective semester in which the student
meets the criteria and so on.
On the recommendation of committee, competent authority will approve the continuation/ reduction in scholarship on case
to case basis (when required).
Last Date To Apply
Last date to apply is 10 August, 2023.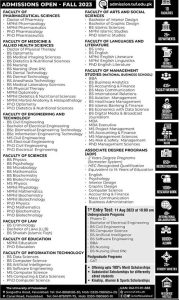 Address:
Sargodha Road, University Town, Faisalabad,Canal Road, Faisal Town, Faisalabad
UAN: +92- 41- 111- 111- 883
Phone: +92- 041- 8750971- 5.
Fax: +92- 041- 8750970

[email protected]