College of Nursing Mardan (CNM) is Affiliated with Khyber Medical University, Peshawar and registered with Pakistan Nursing Council. This institute is working under the umbrella of Bacha Khan University and Mardan Medical Complex. The College of Nursing Mardan Offering 2 course Bachelor of Science in Nursing (BSN) and Two Year Post-RN BSN Degree Program with the approach to becoming a major source of nursing education in the country. Now Admission of College of Nursing Mardan Admission open for Session 2023-24.
Programs Offering:
BS Nursing (Generic)(4 Years Degree Program)
Post Basic Diploma Pediatrics (After BS Nursing)
Generic BSN (4-Year) Program
The Baccalaureate of Science in Nursing (BSN) is a four-year program that trains you to become a Registered Nurse. This program focuses on teaching nursing knowledge, skills, and a professional mindset based on research. After finishing this program, you'll be ready to work as a safe and skilled clinical nurse. You'll be able to offer thorough care in hospitals and communities at different levels: primary, secondary, and tertiary.
Eligibility Criteria For BS Nursing
F.sc Pre-medical with minimum 50% score (Physic, Chemistry and Biology.)
Only for female Age Limit 17-25 years.
Kmu-cat test result card
Khyber Pakhtunkhwa domicile
Fee Structure for BS Nursing
Admission fees (one time): 50,000/
Tuition fees (per semester): 83,000/
Hostel charges (per month): 12000/
Post RN (2-Year) Program:
This program is made for diploma-level Registered Nurses. It gives them a chance to get a wide-ranging education at a degree level. The focus is on theoretical and practical knowledge related to nursing practice, research, and health in different settings. The courses aim to get nurses ready to demonstrate their abilities, as set by the Pakistan Nursing Council
Program Goals:
The aim of the program is to train skilled and knowledgeable nurses. They should have the right attitude and abilities to offer safe, high-quality care. This prepares them to face the upcoming challenges in 21st-century healthcare, while respecting professional, religious, cultural, legal, and ethical standards.
Eligibility Criteria for Post RN:
Matric with science (Physics, Chemistry & Biology) as main subjects as per HEC requirement.
Diploma in nursing
Diploma in midwifery (Any Post Basic specialty for male in lieu of Midwifery Diploma).
01 Year post midwifery/specialty, clinical experiences.
Valid PNC registration with all entries of professional qualifications
Provision of NOC from concern department in case of student working in public sector
Passing entry test & interview
How to Apply in College of Nursing Mardan
Online application available at www.bkmc.edu.pk
Application form along with attested copies of all required documents and online deposit 3000-/ College of Nursing Mardan should reach the office of Principal MTI College of Nursing Mardan on or before last date.
Only short listed candidates will be called for interview Prospectus is available in student affairs section, College of Nursing Mardan.
Last Date To Apply
Last date to apply is 30th October,2023. Date extended till 17th November, 2023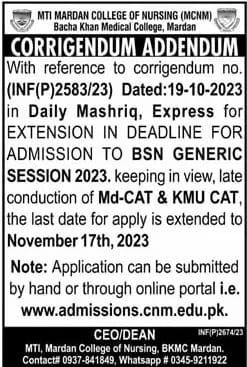 Address:
Mailing Address: Principle office, MTI College of Nursing Mardan Bacha Khan Medical College, Main Nowshera Road, Mardan, KP
Contact Number: 0937-841850, 0300-9396650, 0346-9308393