Four decades ago, the journey of the Sindh Institute of Urology and Transplantation (SIUT) commenced with just an eight-bed ward in the Burns Unit of Civil Hospital Karachi. Over time, this modest ward underwent significant growth both clinically and physically. In 1991, it achieved the status of an Institute through an Act of the Sindh Assembly.In 2005, the SIUT Trust was established as a charitable trust dedicated to the public welfare. Its mission was to provide medical facilities and financial assistance to those in the advanced stages of renal ailments.Situated near the Civil Hospital of Karachi, SIUT operates primarily from the Dewan Farooq Medical Complex, named after a generous philanthropist whose contribution played a pivotal role in its construction.In recent years, SIUT has expanded its facilities with the support of another benevolent donor, leading to the establishment of the Hanifa Sulaiman Dawood Oncology Centre. This center represents a significant milestone for SIUT, providing advanced treatment for various cancers, including bladder cancer, kidney cancer, prostate cancer, adrenal cancer, testicular cancer, and post-transplant malignancies.
Offering Programs:
Bachelor science in Nursing 4 year program
Eligibility Criteria for BS Nursing
FSc (Pre Medical) with minimum 50% Marks in Biology, Chemistry, & Physics.
Age limit: 18-35 Years.
Candidate should have Domicile of Sindh.
Age Limit: 25 years maximum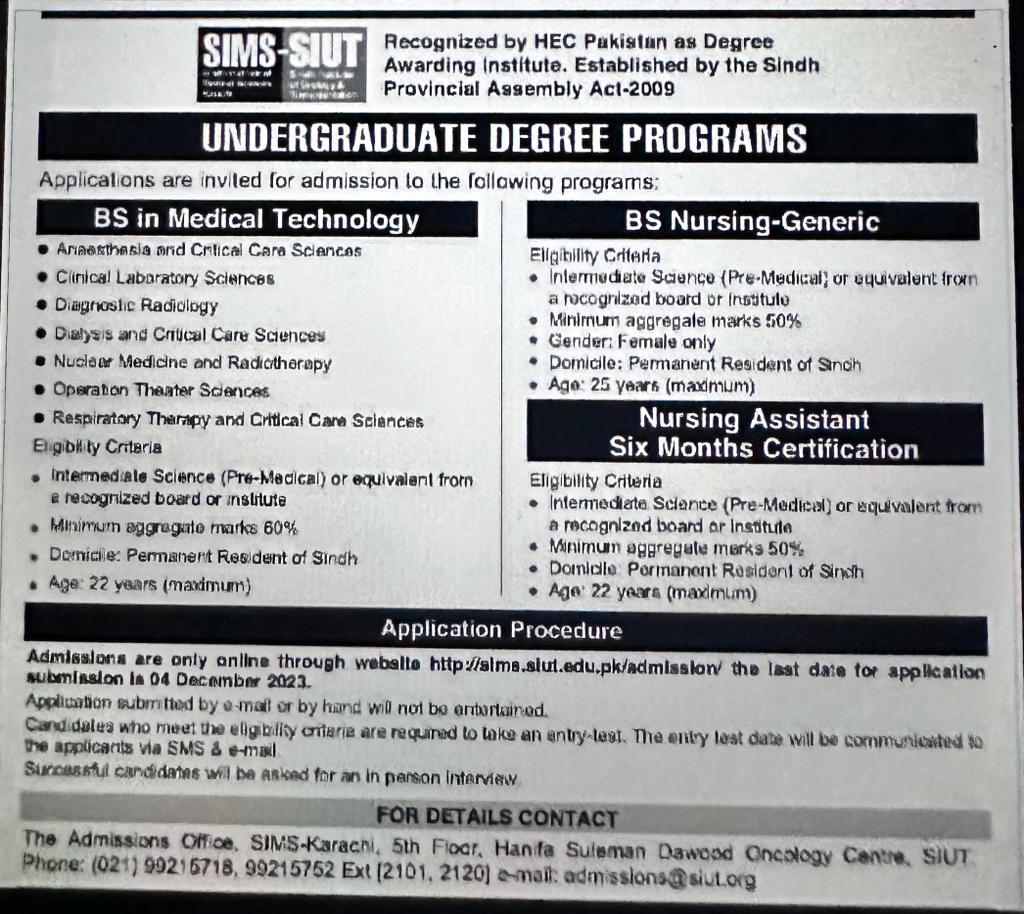 Last Date To Apply
Last date to apply is 04 December, 2023.
Address:
Sindh Institute Of Urology And Transplantation (SIUT),Sardar Yaqoob Ali Khan Road, Near Civil Hospital, Karachi