The Baqai Foundation established in 1976 is the supreme policy-making body. It is responsible for monitoring, assistance, and guidance to pursue various projects that have been completed or are currently underway. For the last 60 years, Prof. Dr. Fareed Uddin Baqai, Prof. Dr. Zahida Baqai, and their capable teams have consistently executed sterling projects in the fields of Human Development, Poverty Alleviation, Medical Education, Training, Healthcare, Food and Nutrition, Environment Protection as well as a myriad of complex challenges. The very first project launched by Prof. Dr. Baqai in the 1960s was establishing a 350 bedded healthcare facility to serve the lower and middle-income community groups.
Baqai College of Nursing Admissions
Baqai College of Nursing (BCON) is a Part of Baqai Medical University. In addition, BCON has been working under the umbrella of Baqai Medical University since 1996. BCON offers three Programs ( General Nursing, Post-RN Bsc Nursing, and BSc Nursing). Its Started General Nursing in 1996. Post-RN BSc Nursing in 1998 and Bs Nursing four-year degree program in 2003. To Sum up, BCON is Serving with the vision to prepare Academically sound and competent nurses to meet the challenges of the Profession.
Read More: Top 10 Best Nursing Colleges in Pakistan
Eligibility Criteria for BS Nursing
Minimum 55% in Intermediate Pre Medical Group
An equivalence Certificate from IBCC is required for O & A Level Students, with a minimum of 55% Marks in Medical Subjects (Biology, Physics, Chemistry).
Eligibility Criteria for Post RN
Diploma in General Nursing with 3 years of Clinical Experience.
Valid PNC Registration Card.
No Objection Certificate.
Documents Required
Mark and provisional certificate of High School
High secondary ( Intermediate) Mark sheet and provisional certificate
Candidate CNIC or Father CNIC
Candidate Form B along with the Domicile of the candidate or a Copy of the Father's Domicile
Equivalence Certificate ( in the case of O & A level)
Copy of Valid PNC card and NOC ( if you are a candidate for Post-RN Nursing)
Three Recent Passport Size Photographs
Along with 3000 prospectuses and 2000 admission fees, candidates may be submitted to the Admission Cell of Baqai Medical University (9:00 am to 4:00 pm). Along with a pay order of 5500 Application may also be posted to the Director of Admissions, Admission Cell, Baqai Medical University, Super Highway, Gadap Road, P. O. Box. 2407, Karachi.
Last Date To Apply
The last date to apply is 13 October, 2023.
The entry Test Date 21 October, 2023.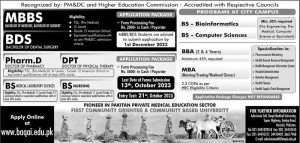 Address:
51, Deh Tor, Gadap Road, Near Toll Plaza, Super Highway P.O Box No 2407, Karachi – 75340, Pakistan.
(092-21)34410293 to 298.
Fax : (092-21)34410317, 34410439.