Overview:Lt. Gen. Syed Iftikhar Hussain Shah, the governor, performed the ceremony at Kohat District, KPK Province, Pakistan, in 2001. KUST has advanced considerably during the past 16 years, both in terms of human resources and material infrastructure. Not only has KUST been successful in developing structures with commanding views, accommodating contemporary classrooms and laboratories outfitted with cutting-edge equipment, but it has also created a dynamic academic environment fueled by research and creativity. World-class academics committed to teaching and research have been drawn to and kept at KUST. Prof. Dr. Sher Ali Khan Shinwari served as the university's first vice chancellor (Late). In the HEC rankings' General category, the university is rated No. 22.
Conception: Lt. Gen. S. Iftikhar Hussain Shah, a prominent figure in Kohat who had a clear vision and a strong desire to make a positive impact on the southern regions of Khyber Pakhtunkhwa, was the one who first had the idea for KUST. He had an institution in mind that would have:
A dynamic outlook.
A group of accomplished and forward-looking academic leaders.
An awe-inspiring landscape.
A captivating campus.
Nursing Programs:
Bs Nursing (4 years)
| | |
| --- | --- |
| Admission Fee | 50,100 |
| On Next Semester Fee | may decrease |
Eligibility:
Student should have 50% marks in FSC.
Merit for admissions to BS shall be established on the basis of results of SSC and HSSC or Equivalent education.
Merit on admission.
How to apply?
https://admissions.kohat.edu.pk/
All interested must apply through the online portal given below.
Last date to apply:
Last date to apply for admission: 02 October, 2023.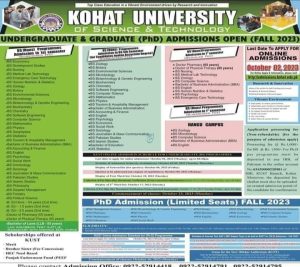 Total seats:
Total seats available 100 seats.
Address: GCFW+896, Bannu Road, near Jarma Bridge, Kohat, Khyber Pakhtunkhwa.