Shaikha Fatima Institute of Nursing and Health Sciences College is Situated in Muslim town in Lahore and Affiliated with renowned hospital Shaikh Zayed Medical Complex. Shaikh Zayed Medical Institute is one of premier institute in Lahore and Center for dissemination of knowledge and Provide a platform to learn advancing technology under the umbrella of Developed research facilities
Programs Offering
BS Nursing Generic (4 years degree program)
Post RN BS Nursing (2 years degree program)
04 YEAR GENERIC BSN DEGREE PROGRAM SESSION 2023-2027
Affiliated With University Of Health Science, Lahore
Application Are Invited From Female Candidate for Admission In 04 Year Generic BSN Degree Program Session 2023-2027
ELIGIBILITY CRITERIA FOR GENERIC BSN
Metric With Science(Physics, Chemistry & Biology As Compulsory Subjects)
F.sc (Pre-Medical) With Minimum 50%Marks (Physics, Chemistry & Biology As Compulsory Subjects
Age Limit:17-25 Years
Entry Test
Eligibility Criteria for Post RN(2 years program)
Diploma in General Nursing.
Diploma in Midwifery/Post Basic Specialization for males in lieu of midwifery Diploma.
Pakistan Nursing Council PNC valid registration card/License.
Minimum experience of 1 year as Registered Nurse.
Entry Test
Written Test Based On Standard of Board Of Intermediate And Higher Secondary Education In The Subject Of Physics, Chemistry, Biology And English As Per F.sc Syllabus
Important Dates for Post RN BSN
Application Forms Are Available From Account Section To The Institute Of Payment Of Rs.500/-(Including Entry Test) By Bank Challan National Bank Of Pakistan Shaikh Zayed Branch, Lahore , A/C No. 3154820895
The Photocopies Of The Following Documents Duly Attested Must Be Attached With Application.
Matric & F.sc Certificates.
Domicile
Computerized CNIC Card Or B.Form.
Four Colored Photographs Size 1.5*1.5 With Blue Background
Post Office Enveloped Two Nos. With Stamp Tickets
Covid-19 Vaccination Certificate
3 Last Date for Receipt Of Application Is 25-01-2023(Wednesday)
4 List oF Eligible Candidates For Entry Test Will Be Display on 15-02-2023 (Saturday)
5 Entry Test Will Be Held On ) Sunday At 9:00 Am In Shaikh Fatima Institute Of Nursing & Health Science , Shaikh Zayed Hospital, Lahore
6 List Of Successful Candidates Will Be Display On 15-02-2023 First Merit List.
7 Last Date of Submission of Fee for Candidates Selected On 1st Merit List Will Be 13-01-2023 (Friday).
8 2nd Merit List Will Be Displayed on 17-01-2023 Tuesday.
9 Last Date of Submission of Fee for Candidates Selected 2nd Merit List Will Be 23-01-2023 (Monday)
10 Final Selection of Candidates Will Be Made On Merit Calculated Form Matric/F.sc Marks and Entry Test Marks. For Hafize-e Quran 20 Marks Will Be Added To F.sc. Obtained Marks.
11 Orientations and Commencement of Classes Will Be On 28-02-2023 (Monday)
12 Incomplete Applications Will Not Be Entertained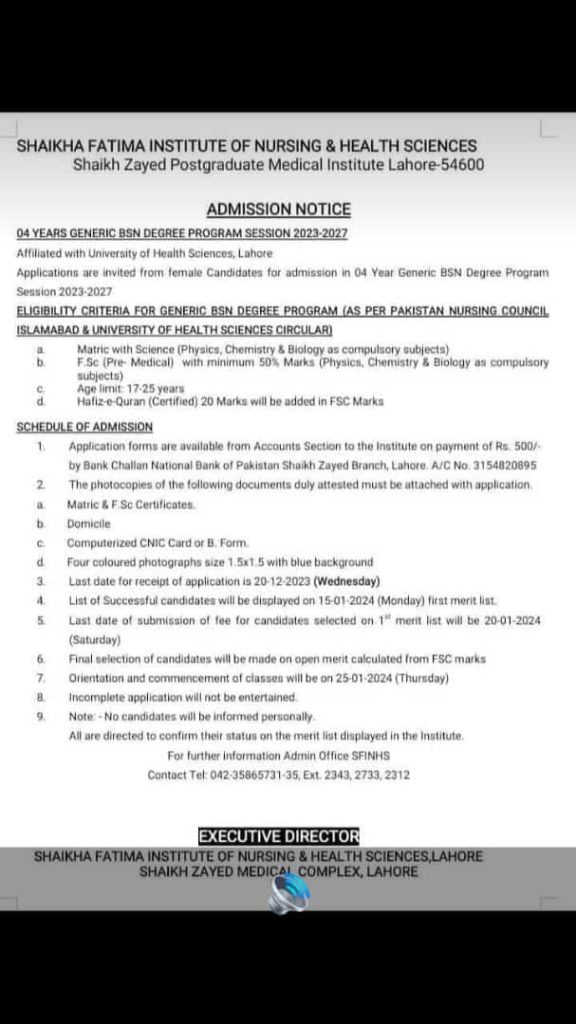 PROF.DR. MUHAMMAD SUHAIL, DIRECTOR
SHAIKHA FATIMA INSTITUTE OF NURSING & HEALTH SCIENCE, LAHORE
Address:
G855+MM4 Shaikh Zayed Medical Complex, Khayaban-e-Jamia Punjab, Block D Muslim Town, Lahore, Punjab