It is a well reputed institute. It is the motive of Health and Education Foundation to respond to human comfort and patient satisfaction with a highly skilled and experienced paramedical staff. The establishment of Nursing College is one of the many steps taken in this direction.
The College is determined to work towards providing quality medical education to nurses and groom them to become a valuable addition to our national lot of health care professionals. At present, the college is offering the Licensed Practicing Nurse Program. The students utilize the facilities of Central Park Teaching Hospital and Bhatti International Teaching Hospital during their clinical practicum.The purpose is simple; to combine scientific knowledge and committed services to turn our staff into a helping hand, healing mind, body and spirit.
Programs Offering
Certified Nursing Assistant (2 year Diploma program)
Eligibility Criteria for CNA
Last Date To Apply:
Last date to apply is 31 July, 2023.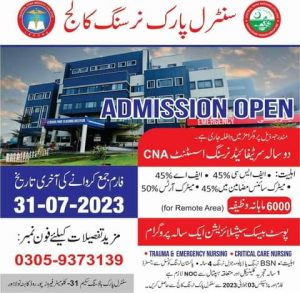 Address:
31 km Ferozepur Road, Kahna Nau, Lahore, Pakistan
042-35935332-9