The Gulfreen Nursing College is a regionally and nationally recognized institution for educating undergraduate students in the nursing profession. Gulfreen Nursing College is recognized for its various programs such as Bachelors of Nursing and Licensed Practical Nursing through Pakistan Nursing Council and Punjab Nursing Board. The Gulfreen Nursing College is affiliated with the University of Health Sciences.Nursing is an academic discipline as well as a profession. As a discipline, nursing aims to develop knowledge, skills, and attitudes related to the healthcare of human beings. Concepts derived from research give order to the profession of nursing as well as gives identity to the nursing practice, putting theory into practice. As a profession, nursing creatively uses knowledge, skills, and attitudes in response to the health care needs of society. Both of these functions are enhanced by the scholarly environment of the Gulfreen Nursing College and its multi-cultural setting as a context for professional nursing practice.
Programs Offering
Bachelors Of Science in Nursing (4 years Degree Program)
Certified Nursing Assistant CNA (2 year Diploma program)
Eligibility Criteria for BS Nursing
This program comprised of 4 years academic duration.
Total of 135 credit hours including 70 nursing and 65 non-nursing.
FSC pre medical minimum marks 55 %.
Age limit: 18-25 years at the time of admission.
Fee Structure for BSN
They charge 180,000 per year.
Eligibility Criteria for CNA
Eligibility: The Applicant must meet one of the following academic levels:
F.Sc with minimum 45% marks.
FA with 45% minimum marks.
Metric with Science 50% minimum.
Gender: CNA is only for female.
Age: Preferably 17-23 years.
Marital Status: Unmarried females are allowed.
Last Date To Apply
Last date to apply is 10 November, 2023.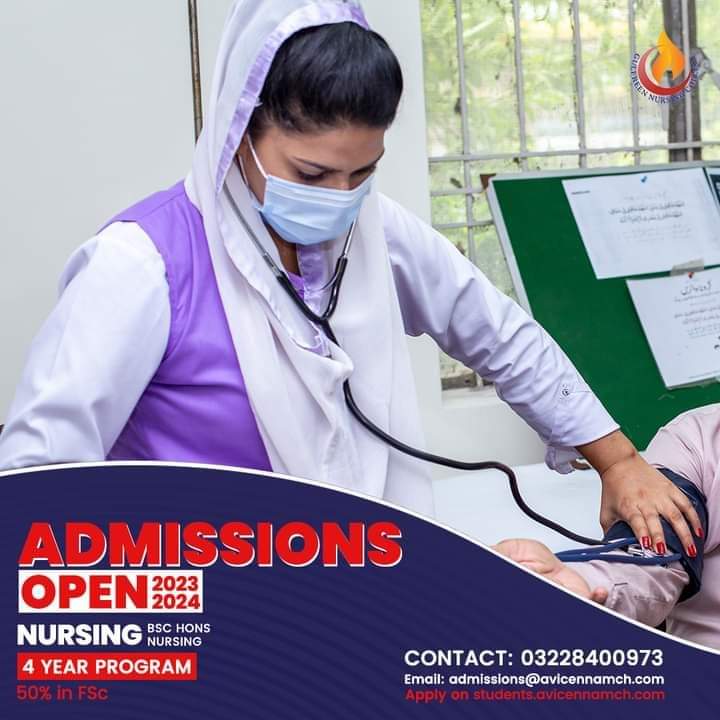 Address:
CFM9+PCC, Lahore, Punjab
0300 7666359, (042) 37167565