Patel Institute of Nursing and Allied Health Sciences have been offering General Nursing Training and Degree Programs since 2009.
It is affiliated with the Pakistan Council, and DOW University of Health Sciences to provide good quality of education to all students at an reasonable cost and help them become a better part of society.
Programs Offer
BS Nursing (4 year program).
Post RN ( 2 year program).
Community Midwifery.
Intermediate (Pre Medical) minimum 50% marks
Migration certificate (for the candidates those who passed their HSC. II examination from Board/Institution other than Karachi Board/Institution).
Character certificate
C.N.I.C/B. form
Age Limit: 16-35 Years
Domicile & PRC (Sindh)
Test conduct by NTS
Fee Structure for BSN:
Admission fees ( Once): 90,000/
Tuition fees ( per semester): 55,000/
Total 8 semester fees: 440,000/
Total Charges: 530,000/
Post RN BS Nursing Eligibility Criteria:
03 years General Nursing Diploma
01 year Post Basic Specialization Diploma
Valid PNC License (Expiry not Less than 6 months)
Migration certificate (for the candidates those who passed their Last examination from Board/Institution other than Karachi Board/Institution).
Domicile & PRC
CNIC
No objection Certificate (NOC)-
a) Patel Hospital employee (HR/Department)
b) Others (Institution/School of Nursing)
Fee Structure For Post RN:
Admission fees ( Once): 90,000/
Tuition fees ( per semester): 55,000/
Total 8 semester fees: 220,000/
Total Charges: 310,000/
Community Midwifery Eligibility Criteria:
03 years General Nursing Diploma
Valid PNC License (Expiry not Less than 6 months)
CNIC
Domicile & PRC
Fee Structure Community Midwifery:
Admission fees ( Once): 40,000/
Tuition fees ( per semester): 41,166/
Total 8 semester fees: 50,000/
Total Charges: 90,000/
Last Date to Apply:
15 October 2023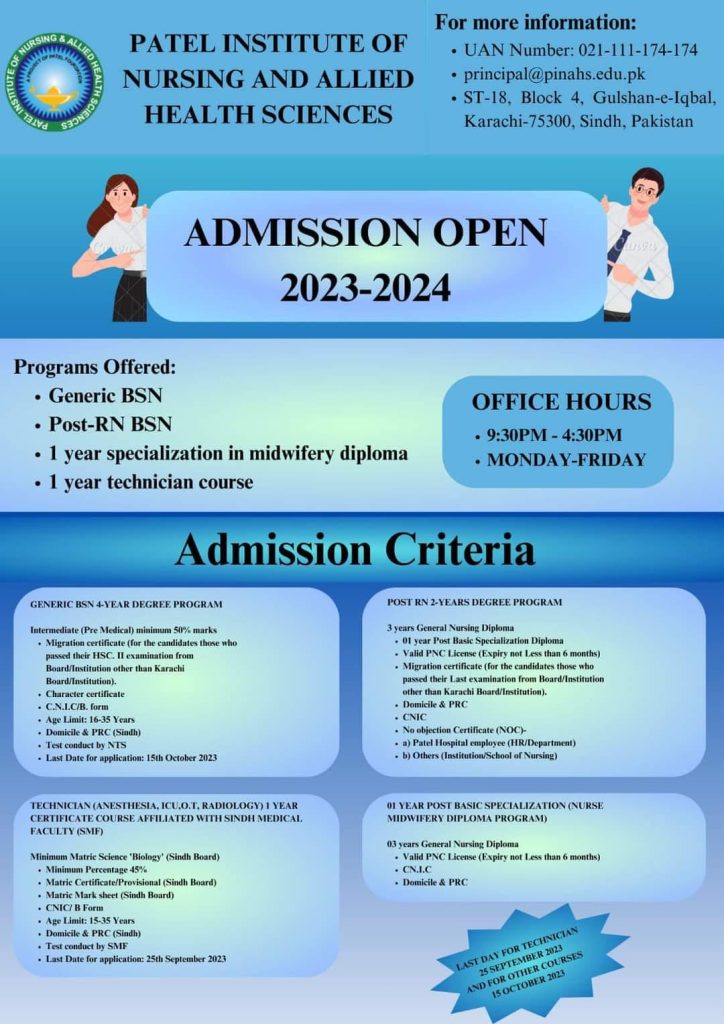 Address
ST-18, Block 4, Gulshan-e-Iqbal, Karachi-75300, Sindh, Pakistan.
Office +922134968660-1
Email: [email protected]
www.patel-hospital.org.pk/