Offering Program:
Naushehro Feroze institute of Nursing offering programs are
Bs Nursing (4Year program)
Certified Nursing Assistant (2 Years Diploma Program)
Community Midwifery (2 Years Diploma for female candidates only)
Post Basic Diploma in Cardiac Nursing (specialization)
Eligibility Criteria for BS Nursing
Qualification: F.Sc. with pre-medical / equivalency (50% Marks)
Matric with minimum 50% Marks.
Valid CNIC from Sindh KPK
Age Limit: 17-35 Years
Only Kpk students can apply for this Program.
Total seats for one session are 50.
Fee Structure for BS Nursing
Admission fee (Once): 100,000/
Tuition fees (per semester): 75,000
Eligibility Criteria for Post RN:
Diploma in General Nursing.
Diploma in Midwifery/Post Basic Specialization for males in lieu of midwifery Diploma.
Pakistan Nursing Council PNC valid registration card/License.
Minimum experience of 1 year as Registered Nurse.
Fee structure for Post RN
Admission fee (Once): 80,000/
Tuition fees (per semester): 75,000
Eligibility Criteria for Lady Health Visitor LHV:
Matriculation with minimum 45% Marks in Biology, Chemistry, & Physics
Age limit: 14-35 Years
Gender: Female
Fee Structure for LHV:
Admission fee (Once): 35,000/
Tuition fees (per semester): 5000/
Eligibility Criteria for Certified Nursing Assistant CNA:
Matriculation with minimum 45% Marks in Biology, Chemistry, & Physics
Matriculation in Arts with minimum 50% Marks
Age limit: 14-35 Years
Gender: Both
Fee Structure for CNA:
Admission fee (Once): 35,000/
Tuition fees (per semester): 5000/
Eligibility Criteria for Community Midwifery CMW:
Matriculation with minimum 45% Marks in Biology, Chemistry, & Physics
Matriculation in Arts with minimum 50% Marks
Age limit: 14-35 Years
Fee Structure for CMW:
Admission fee (Once): 35,000/
Tuition fees (per semester): 5000/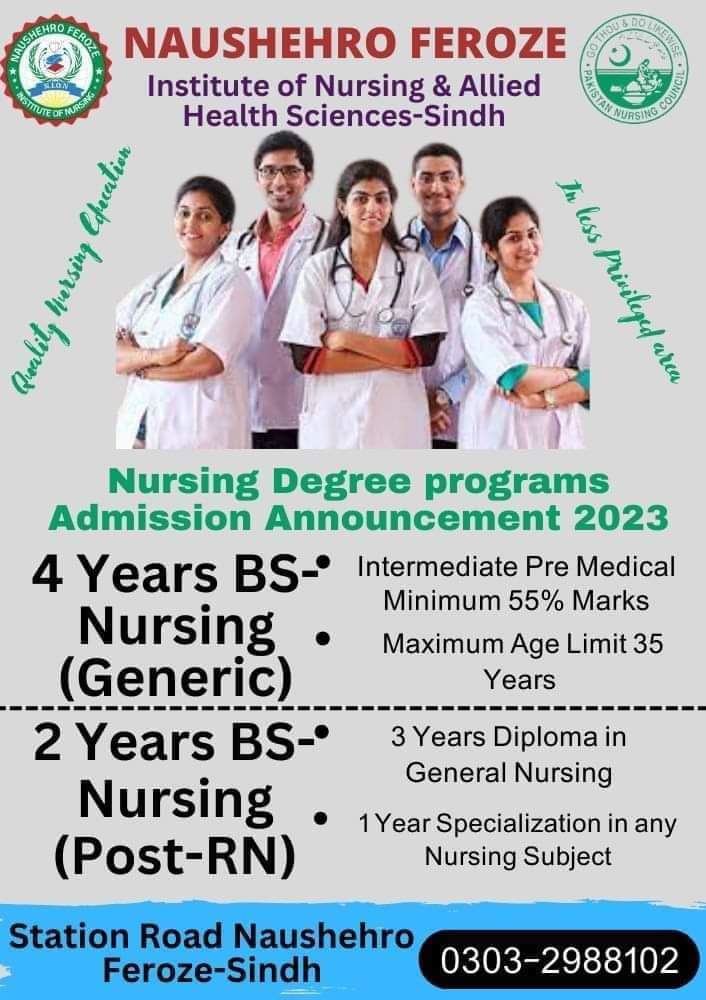 Last Date:
Last date to apply is 30 October, 2023
Address:
Ward No 4 Satation Road Naushhro Feroe, Sindh Naushahro Firoz, Sindh, Pakistan-67370
+92 303 2988102