King Edward Medical University (KEMU) is a public medical university located in Lahore, Punjab, Pakistan. Founded in 1860, the university is named after King Edward VII.
Established by the British Raj, named as Lahore Medical School. In 1868, the University of Dublin granted students of the Lahore Medical School "privilege similar to the granted to students from English schools". In 1871, the university added Mayo Hospital as an affiliated hospital, replacing the existing Anarkali Dispensary. The same year the college became an affiliate of University of the Punjab, while in 1887, the university added Lady Aitchison Hospital as a second teaching hospital.
After Pakistan's independence, the university became the only medical college in the province and in 2005 became a charter to award degrees in its own right. It has since gone through expansion, and oversees seven tertiary referral hospitals including the Lady Willingdon Hospital.
KEMU Affiliated institutes
Mayo hospital
Lady Willingdon Hospital,
Lady Aitchison Hospital,
Nawaz Sharif Hospital,
Shahdara Hospital,
Government Said Mitha Teaching Hospital
Mian Munshi Hospital
M.PHIL NURSING PROGRAM, SESSION 2022-2024
ADMISSION CRITERIA
All candidates heaving 16 Years of Education are eligible to apply this Program (04 years BSc Generic, Nursing or Diploma in General Nursing & Midwifery with 02 years Post RN or any other equivalent qualification determine by PNC).
Qualification must be recognized by PNC / HEC.
Valid certificate of permanent or provisional registration with Pakistan Nursing
Council (PNC)
Two reference letters from faculty members.
The maximum age limit is 58 years at the time of closing date. vi. The applicant must have passed GAT C.
(B)ENTRY EXAMINATION:
All the candidates shall have to pass Graduate Assessment Test (GAT-C General) with minimum score 50% as per HEC criteria submit result card.
Otherwise, their applications for admission will automatically stand cancelled and they shall not be allowed to appear before the Committee for interview. Moreover, no further relaxation will be given in any circumstance.
Note:
Only short listed candidates will be called for interview. Passing the interview is a compulsory component of admission.
The candidates shall be required to present all their original academic credentials at the time of interview and good conduct certificate issued by the Head of Department/Head of Institution, otherwise, they shall not be eligible/allowed to appear for interview.
Total Number of Seat is 10:
The allocation of training slots in M.Phil is highly competitive. Only the candidates of top most merit shall be offered training position which would be limited to the available slots.
No paid seat will be offered.
IMPORTANT DATES AND INSTRUCTIONS:
Fee of Application Form is Rs. 2000/- (Non- refundable).
Fee should be deposited in the Authorized Bank of KEMU or attach original Pay
Order of worth
Rs.2000/- in favor of the Vice Chancellor, King Edward Medical University, Lahore
The admission form along with original fee receipt / pay order can be deposited / submitted from Monday, 19.09.2022 to Monday, 03.10.2022, during working hours, in the Office of the Assistant Registrar (Academics), Patiala Block, King Edward Medical University, Lahore.
Provision of E-mail on application forms is essential. Non provision of E-mail address will result in non-communication and the candidate herself/himself would be responsible for any delay and loss.
Application forms can be downloaded from www.kemuedu.pk or obtained from the Office of the Assistant Registrar (Academics), Patiala Block, KEMU. Nila Gumbad, Anarkali, Lahore.
Please attach attested photocopies of Degrees and Transcripts of Post RN, Domicile, I.D. Card, Original Fee Deposit Receipt, & other relevant / supportive documents along with admission forms.
Incomplete admission forms will not be entertained and admission forms without supportive information / documents as mentioned above, would be rejected.
Application forms sent by post / courier will also be entertained if received in the Office of the Assistant Registrar (Academics), during working hours, within due date i.e. Monday, 03.10.2022.
Application forms received after due date shall not be entertained.
Interview of eligible candidates will be held on Monday, 07.11.2022.
12.List of selected candidates will be displayed on KEMU website on Tuesday, 15.11.2022.
The selected candidate must deposit their two years fee Rs.113000/- which will not be refundable according to the M.Phil Regulations 2015 of this University.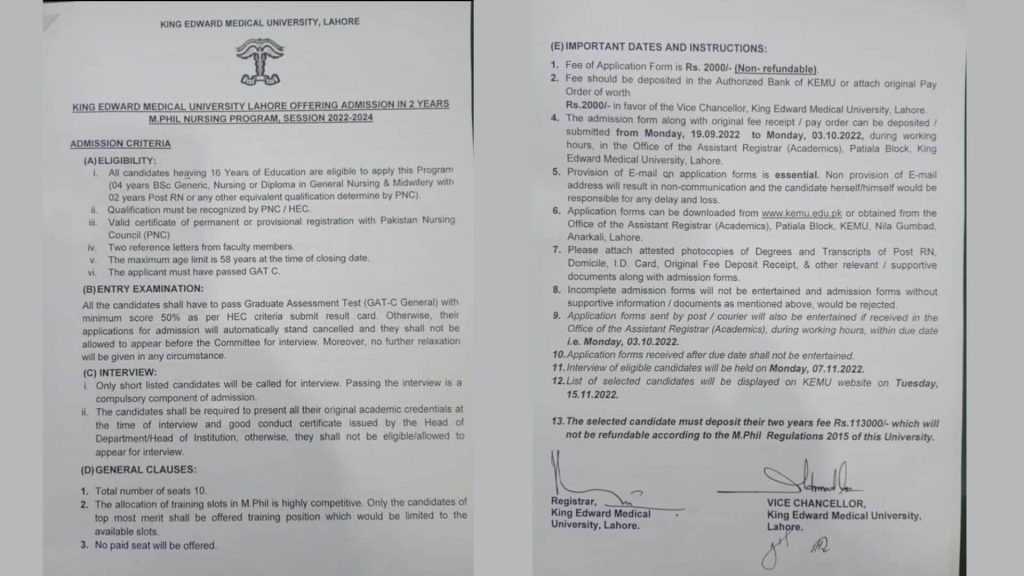 KEMU hostel facilities
KEMU offers mess facilities for its understudies that are possessed with beautiful yards and breezy regions. These hostels are furnished with offices that are fundamental for understudies. The transports give pick and drop to the understudies also. Farooq Hostel on McLeod Road is probably the best example. The new hostel is also furnished with a badminton court.
Here I list all the necessary details about the King Edward Medical University-Lahore. The admission application form can be download from www.kemu.edu.pk.
Address:
Address: Nila Gumbad Chowk، Neela Gumbad Lahore, Punjab 54000