The Multan University of Science and Technology, located in Multan City, has been set up with the support of Learn Forward (Pvt.) Limited. It has received a charter from the Provincial Assembly of Punjab, making it an independent university authorized to confer degrees. This recognition comes through The Multan University of Science and Technology Act XXXIV of 2022. The university's status is further affirmed by the Company Incorporation Certificate (see Annex-A) and the Punjab Gazette Notification (see Annex-B).
The Multan University of Science and Technology (MUST) is the pioneer in the private sector of South Punjab, placing a strong emphasis on incubation, skill development, and nurturing an entrepreneurial spirit among both students and professionals.
We offer a unique blend of education, innovation, and technology, empowering the youth to actively contribute to the economy by becoming catalysts of creativity, effective problem solvers, and generators of fresh ideas aligned with global trends.
MUST holds a broad vision and possesses immense potential to transform Pakistan into a land of opportunities. Our facilities and infrastructure are tailored to meet the modern demands of the educational market.
We are committed to developing faculties and academic programs that align with current market trends and needs. Additionally, we will launch faculty development and professional training programs, providing hands-on experience to students, entrepreneurs, and professionals, ensuring they are well-equipped for success.
Offering Programs:
Bachelor of science in Nursing (4 year)
Post RN (2 year)
BS Nursing (Four Year Degree program)
Entry Requirements: 12 Years of Education, Matric Science, F. Sc. (Pre-Medical) / Equivalent with 50% minimum
marks.
Fee Structure For BsN:
Admission Fee 25,000 PKR
Application Fee: 2500 PKR
Semester Fee: 125,000 pkr
Last Date To Apply:
Last date to apply is 24November,2023.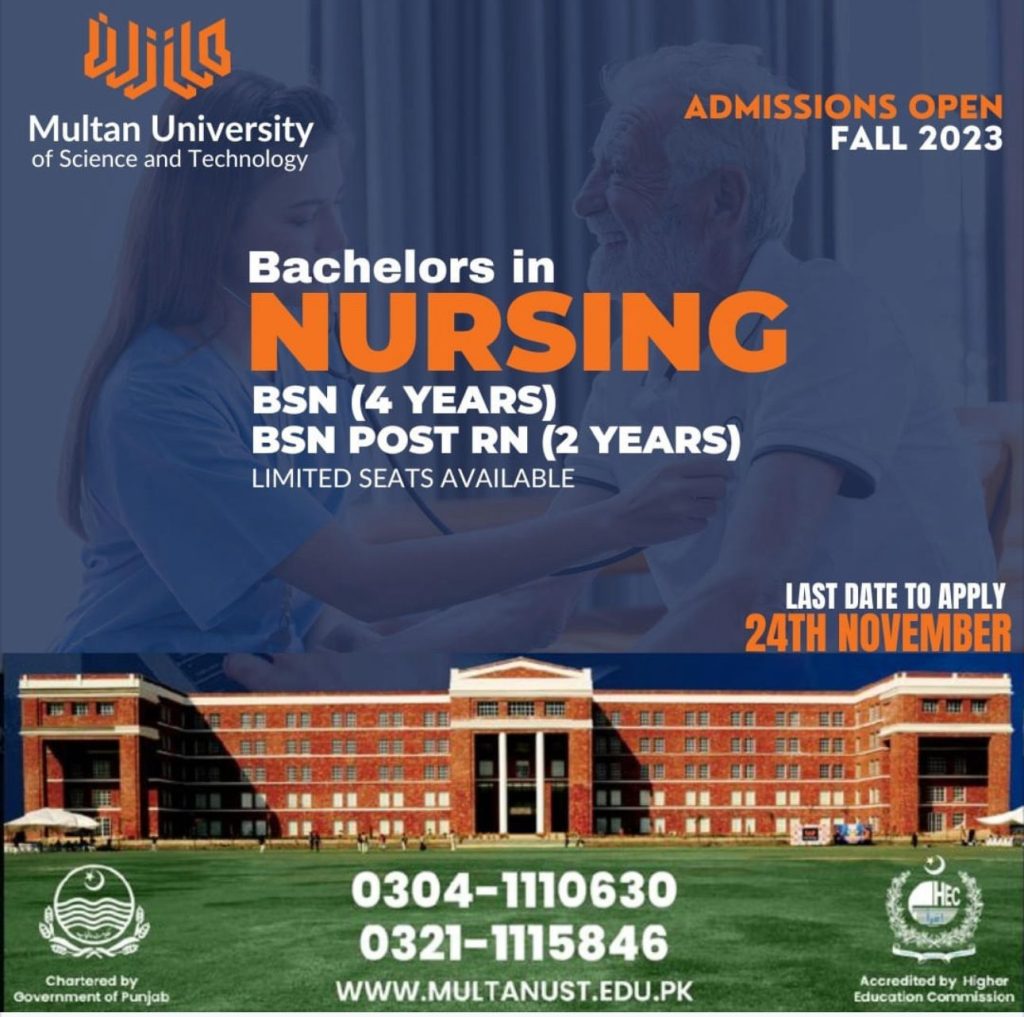 Address:
0.7 Km Multan Southern Bypass Rd, Chowk Nag Shah Shershah Town,Multan, Punjab