Institute of Nursing Sciences is a state-of-the-art institution of Sarhad University recently established to impart Nursing education to the youth of Khyber Pakhtunkhwa in particular and of Pakistan in general.
The Institute is offering the programs of Nursing, which are duly recognized by the Pakistan Nursing Council
Government of Pakistan.
ELIGIBILITY of BS Nursing (4 Years)
Minimum 50%marks required in FSc pre medical.
University will conduct test through ETEA.
Merit list of selected candidates will be uploaded after result.
Online apply is not acceptable.
Do visit university along with your documents and 4 passport size photo.
Matric certificate/ DMC
Fsc DMC
Domicile
Father and student's CNIC
2 sets of all required documents.
1). Candidates with FSc (Pre-Medical) or A-Levels with Armed Forces & Police
equivalency certificate from IBCC Islamabad with at Personnel/Govt. School &
least 50% marks or any Equivalent Certificate College Teachers and their
from a recognized institution are eligible to apply.
children.
2). Candidates will have to pass an Entry Test and to
appear in an Interview conducted by the University.
HOSPITALS ATTACHMENT:
The following reputed hospitals of Peshawar are attached for
clinical practice of the students of Faculty of Life Sciences.
Naseer Ullah Khan Babar Memorial Teaching Hospital, Peshawar.
Institute of Kidney Diseases, Peshawar.
Burns and Plastic Surgery Center, Peshawar.
North West leaching Hospital, Peshawar.
lady Reading Hospital Peshawar.
SCHOLARSHIPS:
•Free Education Program for
industrial workers and their children
ELIGIBILITY
through Workers Welfare Fund.
15% Concession in Tuition Fee for Armed Forces & Police Personnel/ Govt. school & Collage Teachers and their Childers.
20% concession in Tuition Fee on Kinship basis.
50%concession in tutions Fee for Childern of Shuhada of Armed Forces/Police.
10% concession in Tuition Fee for Domicile Holders of Erstwhile FATA
20% concession in Tuition Fee for all female Students.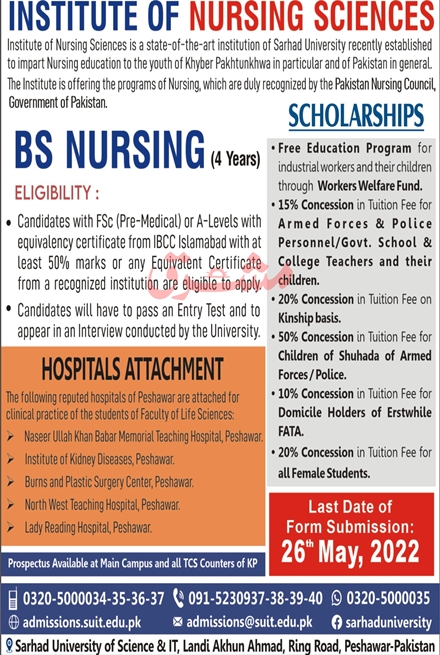 Last Date to Apply:
LAST DATE OF FORM Submission: 26 August, 2023