Nursing is one of the most exciting and in demand profession nationwide and worldwide. It is with great honor and privilege for you as future Pakistani Nurses of this country to enter into the noble profession of nursing. Nursing plays a vital and crucial role in our daily lives listing it by far one of the principal contributing factors in the improvement of human health honored by the World Health Organization.
It is our vision to be the leading College of Nursing in Pakistan and in the kpk region to be recognized nationally and internationally for excellence in education, research and community service. Our mission is to prepare nursing students to be effective specialists and leaders who will work to improve the healthcare profession and health of the people of Pakistan and beyond based on Islamic values and ethical aspects of the nursing profession.
Programs Offering
BS Nursing (4 year degree program)
Post RN (2 Years degree program)
Community Midwifery CMW (2 Years Diploma program)
Lady Health Visitor LHV (2 Years diploma program)
Eligibility Criteria for BS Nursing
4 Years F.S.C(Pre Medical with 50% Marks)
Age 17-25 Years
Eligibility Criteria for Post RN
Diploma in Nursing+Post Basic Specialization (2 Years) Or
Midwifery Diploma
Eligibility Criteria For Lady Health Visitor
Metric with science with 45% marks.
Eligibility Criteria for Community Midwifery
Metric with Science with minimum 45% marks.
Last Date To Apply:
Last date to apply is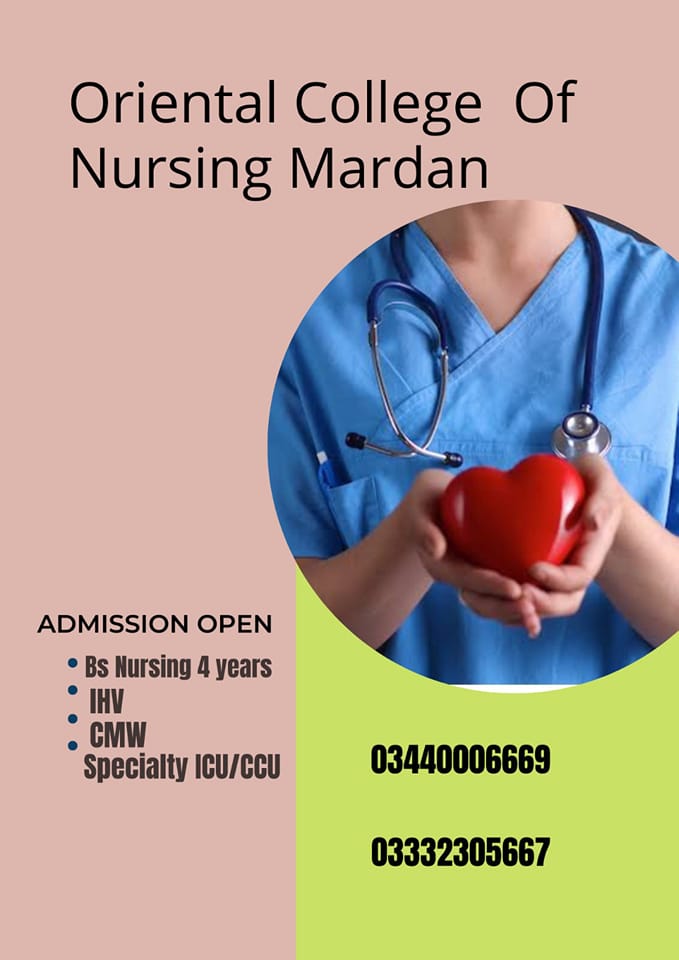 Address:
Dagai Adda Kas Korona, Swabi Road,Mardan
ph: 03111551144
www.oreintlins.edu.pk
https://orientalins.edu.pk/