The Northwest Institute of Health Sciences is committed to providing top-notch education rooted in values like care, integrity, compassion, and confidence. It aims to champion patient care. Moreover, the institute is dedicated to incorporating the latest proven practices, excelling in clinical skills, and taking a forefront role in quality healthcare education. Its goal is to set up a center of excellence in healthcare sciences and technology that inspires change and serves as a model for other institutions. The mission of the Northwest Institute of Health Sciences is to produce highly skilled and specialized professionals who can deliver services up to both national and international standards.
Programs Offering
Bachelor Of Science in Nursing(4 year Degree program)
Post RN BS Nursing (2 year Degree program)
Eligibility Criteria for BS Nursing
FSc (Pre Medical) with minimum 50% Marks in Biology, Chemistry, & Physics.
Age limit: 18-35 Years.
Gender: Both
Entry test: 60% Marks.
Fee Structure for BS Nursing
| | |
| --- | --- |
| Admission fees (once) | 140,000/ |
| Tuition fees (per semester) | 85,000/ |
Eligibility Criteria for Post RN
3 Years Diploma in General Nursing
1 Year Diploma in Specialization Cardiac Nursing / ICU
1 Year Clinical Experience Certificate.
Gender: Both
Entry test: 60% Marks
Scholarship:
Northwest Institute of Health Sciences provided 3 types of Scholarship
NEED-BASED SCHOLARSHIPS
MERIT SCHOLARSHIP
NATIONAL ENDOWMENT SCHOLARSHIP
NEED-BASED SCHOLARSHIPS: Northwest College of Nursing offers financial support to students in need through various scholarships. These include the Need-Based Scholarship (NBS), Merit Scholarship, and the National Endowment Scholarship for Talent (NEST). The NBS covers academic expenses, provides hostel accommodation, and also includes a monthly allowance of Rs. 4000. So far, 20 graduates have benefited from this scholarship, and currently, 16 students are receiving it.
MERIT SCHOLARSHIP:We also provide a merit scholarship to students who achieve the highest position in the KMU final examination in Khyber Pakhtunkhwa. These students receive a 50% reduction in their semester tuition fee. So far, two Generic BSN students and one Post RN BSN student have taken advantage of this scholarship.
NATIONAL ENDOWMENT SCHOLARSHIP:We're proud to be a partner institute for the National Endowment Scholarship for talented students (NEST). This scholarship covers all educational and living expenses for eligible students.
Affiliation:
Khyber Medical University
Higher Education Regulatory Authority (HERA)
Last Date to apply:
Last Date to apply is 2 November 2023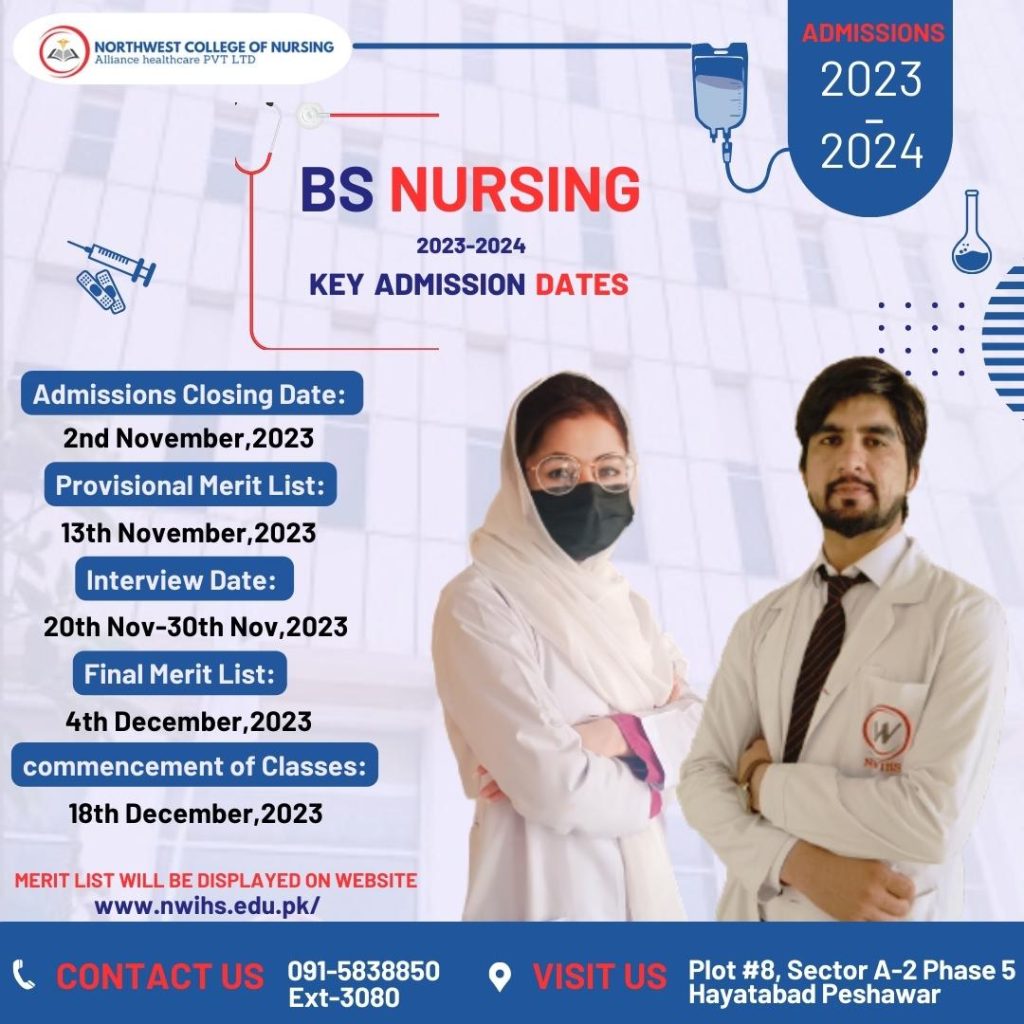 Address:
Northwest College of Nursing, 6th Floor NWTH, Plot# 8, Sector A-2, Phase 5 Hayatabad Peshawar
+92 91 5231605-6