Thank you for visiting the Oriental Nursing Institute and Allied Health Science, Mardan, a great place to learn about the academic prerequisites for a nursing career. Being the biggest and most adaptable group of healthcare professionals, nurses are especially positioned to contribute to and spearhead the change required in our increasingly complicated healthcare system. The Oriental Nursing Institute is a great starting point for anyone interested in pursuing a career as a nurse at this exciting time.
Our bachelor programs emphasize providing patient-centered, research-based, and quality-and-safety-focused treatment, thereby preparing graduates for future healthcare delivery systems. Students from the East like learning from knowledgeable professors who are role models in their field. Students from the East cherish the chance to study with knowledgeable professors who are leaders in their disciplines. Modern classrooms and clinical experiences are provided to students at the Mardan Medical Complex. I hope you'll look around our website and pay us a visit. Graduates are urged to commit to lifelong learning by increasing their understanding, skill, and support of patients and professional nurses. Nursing students pursuing a baccalaureate degree are prepared to work as nursing specialists. Graduates with a baccalaureate degree have a strong base upon which to build their knowledge and skills, positioning them to become leaders in their professions. Graduate nursing students are equipped to improve the nursing profession and work as professionals. All graduates are equipped to improve care, promote health, and have an impact on healthcare expenditures.
Admission Open in:
Bs in Nursing 04 Years
Post RN
LHV 02 Years Diploma
CMW 02 Years Diploma
Matric with science (physics, bio, chemistry as compulsory subjects)
Or with Arts as per HEC notification
Diploma in nursing
Diploma in midwifery ( any post basic specialty).
Criteria LHV:
FSc pre medical with 45% marks. (Physics, biology, and chemistry as compulsory subjects)
Age limit: 14_35 years
Criteria CMW (18 month):
Metric with science or Arts with 45% marks
Age limit.14_40 years
Criteria CNA:
FSc pre medical.( As physics , biology and chemistry compulsory subjects). With 50%marks.
Age limit. 14_35 years
Note:
Application processing fee can be submitted on any bank of Punjab.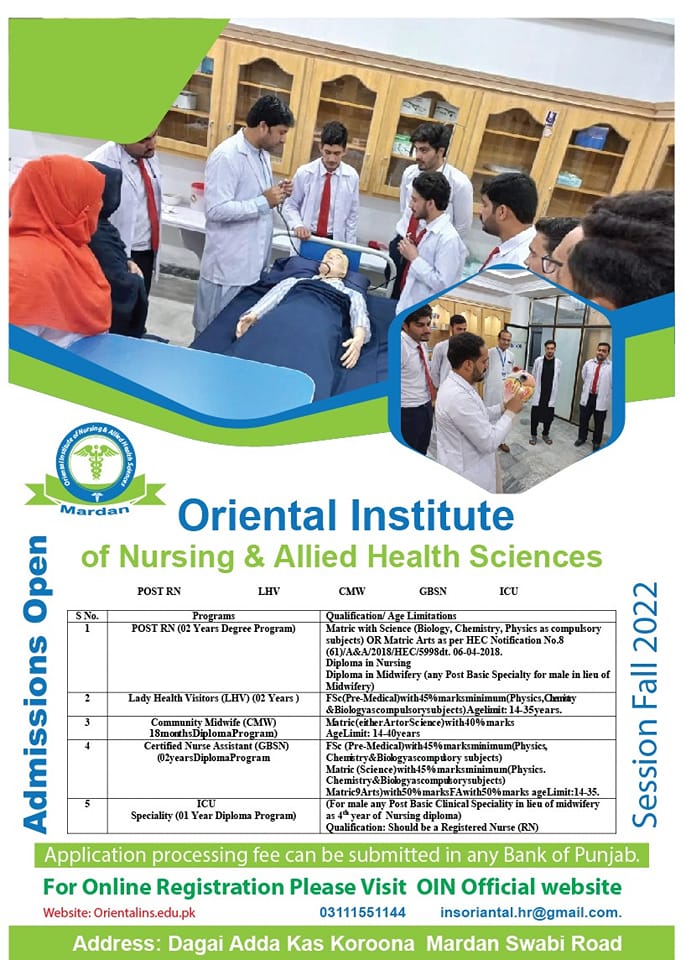 LAST DATE TO APPLY 1 AUGUST 2022
Address: Dagal Adda. Kas Karoona Swabi Road, Mardan, Khyber Pakhtunkhwa 23200.