Zia Nursing College is situated in Mardan and is affiliated with the KMU (Khyber Medical University). It is one of the best nursing colleges situated in KP (Khyber Pakhtunkhwa). Zia Nursing College offers a nursing degree program for the year 2021. Its main purpose is to produce and train the best and skillful nurses in the future to provide the best health services in the country. Zia Nursing College is providing quality nursing education through its talented and well-educated faculty. So in this article, we will try to answer your every question related to programs offered, fee structure, eligibility criteria, other facilities, and admission policy. So let's start our journey….
Programs Offered:
Admission is open in Zia Nursing College, Mardan. Currently, Zia Nursing College is offering admission to BSN Generic (4-year) degree program.
Admission Process
In this section, we will discuss the admission process for the BSN Generic degree program. After reading this you will be able to apply to Zia Nursing College on yourself. We recommend you all read the prospectus briefly before applying. Let's divide the admission process into the following steps:
Submission of Admission Form
Entry Test
Interview
Pay fee
Zia Nursing College will announce the admissions. The first step is to submit the admission form. Applicants must fill admission form correctly. After filling admission form correctly, you have to submit it to a student's affairs section in Zia Nursing College by hand. Admission forms submitted through other ways will not be entertained. No admission form will be accepted after the due date. Applicant must have attached all supporting documents along with the admission form. After this admission committee process all admission forms and documents. On successful verification of the admission form, Zia Nursing College will call you for an entry test. Then Zia Nursing College will display the list of candidates for interview. The date of the Interview will be notified on the website of Zia Nursing College. The interview is compulsory for all candidates on the merit list. After the interview college will call the successful candidates and ask them to pay their fee on the time to confirm admission. (All supporting documents must be attested from gade-16 or above gazette officer).
BSN Generic
BSN (Bachelor of Science in Nursing) Generic is a 4-year degree program offered by Zia Nursing College. There is 4-year of education and 1-year of practical education. After a total of 5-years of education, one can get a valid license from PNC (Pakistan Nursing Council) and call himself/herself an RN (Registered Nurse). Let's move to the other aspects of this degree program.
Eligibility Criteria:
In this section, we will discuss the eligibility criteria for the BSN Generic 4-years degree program in Zia Nursing College. Candidate must have done F.Sc (pre-medical) having biology, physics, and chemistry as compulsory subjects with a minimum of 50% of marks or A-level certificate from IBBC (Inter Board Committee of Chairman). The age of the candidate must be between 17-35 years at the time of admission. The applicant also must have passed the entry test and interview held by Zia Nursing College for admission.
F.Sc (pre-medical) having biology, chemistry, and physics as compulsory subjects with a minimum 50% of marks
An A-level valid certificate from IBCC (Inter Board Committee of Chairman)
Age limit: 17-35 years
Must have passed entry test and interview
Fee Structure
Now it's time to discuss the most important part. In this section, we will discuss the fee structure of the BSN Generic 4-year degree program. We usually divide the fee structure into 3 parts for the reader's assistance. The first type of fee includes one-time payable like admission fee. The second is tuition fee which contains semester fee. And third is funds and security fee (refundable) payables.
| | |
| --- | --- |
| Admission Fee | 48,500 |
| Tuition Fee (Per Semester) | 99,500 |
| Security (Refundable) | 2,500 |
| Co-Curricular activities (Per Semester) | 4,000 |
| Prospectus Fee (Once) | 3,000 |
| Total BSN Fee | 859,000 |
Degree / Convocation Fee (Once) As per Actual
Examination Fee (Per Semester) As per Actual
Scholarship
Zia Nursing College also provides scholarships to deserving students. At this time the scholarships are only available for female candidates. Deserving female candidates can get up to 50% scholarship in Zia Nursing College.
Last Date to Apply
Last date to apply is 5 December, 2022.
Contact:
You can contact and update related to admissions and other important dates in Zia Nursing College through their website: www.znc.pk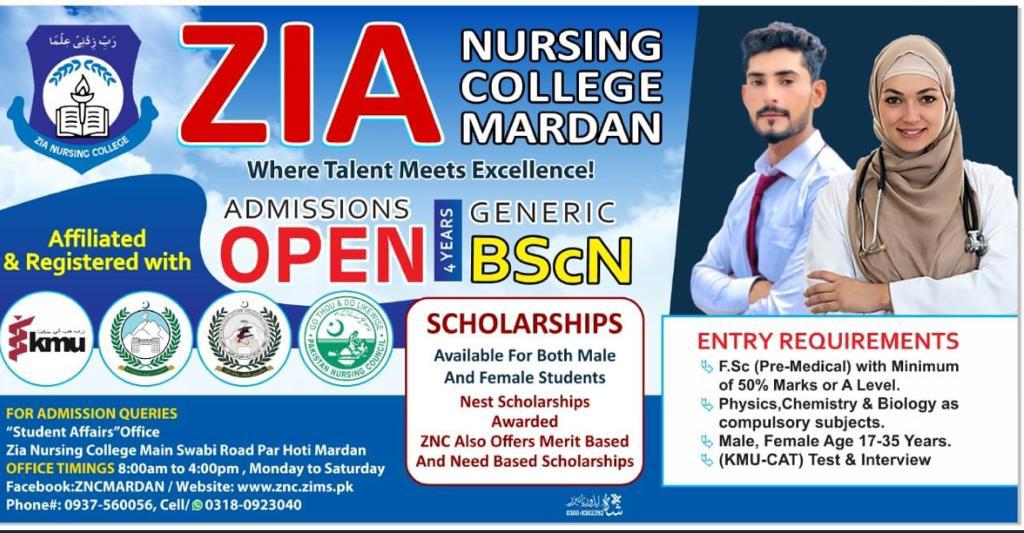 Address
Main Swabi Road, Par Hoti Mardan, KP
Phone : +92 0937-560056
Email: [email protected]
Web: www.znc.zims.pk