Welcome to the University of Chenab! Here, you'll find a tranquil setting, a team of dedicated educators and support staff, and a structured yet pleasant and encouraging environment. Our university is dedicated to nurturing capable professionals in their chosen fields, and we place a high priority on the mental well-being of our students. We believe that education goes beyond grades; it's about cultivating a supportive community that promotes personal growth and development. We're excited to embark on this journey of learning and growth with you
Offering Program:
Bachelor science in Nursing 4 year program
Eligibility Criteria for BS Nursing
Qualification: F.Sc. with pre-medical / equivalency (50% Marks)
Matric with science as per HEC requirements
Age Limit: 17-35 Years
Gender: Male & Female (Open Merit)
Valid CNI
University of Chenab Entry Test / Interview is mandatory.
Fee Structure for BS Nursing: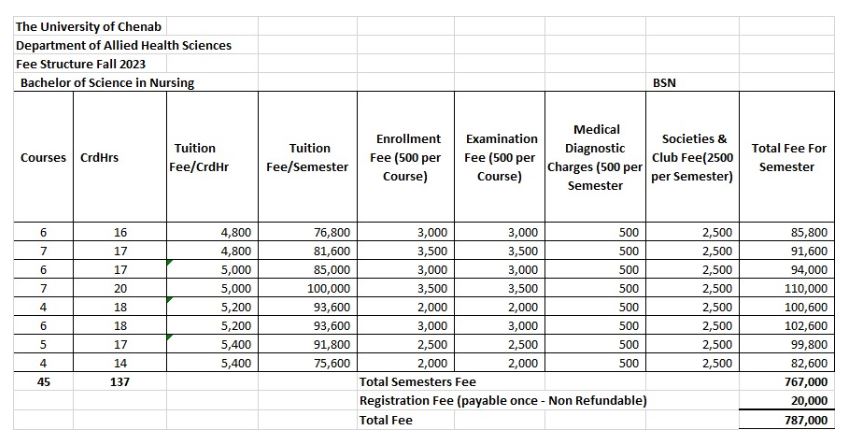 Scholarship:
At the University of Chenab, we offer various financial assistance scholarships to support our students:
Need Based Scholarships: Tailored for students with demonstrated financial need.
Orphan Based Financial Assistance: Designed to aid students who have lost their parents.
Kinship Based Financial Assistance: Providing support to students based on family circumstances.
Chenab Employee Financial Assistance Policy: Supporting children of Chenab employees in their educational pursuits.
Chenab Employee Kin Financial Assistance Policy: Extending assistance to relatives of Chenab employees.
Alumni Scholarships: Awarded to outstanding graduates of the University of Chenab.
Chenab M.Phil./MS Scholarships: Specifically for students pursuing higher degrees in M.Phil./MS programs.
Inter-Provincial Scholarships: Available for students from different provinces.
Scholarships For Students With Disabilities: Tailored to provide support for differently-abled students.
Sports Based Scholarship: Recognizing and aiding talented athletes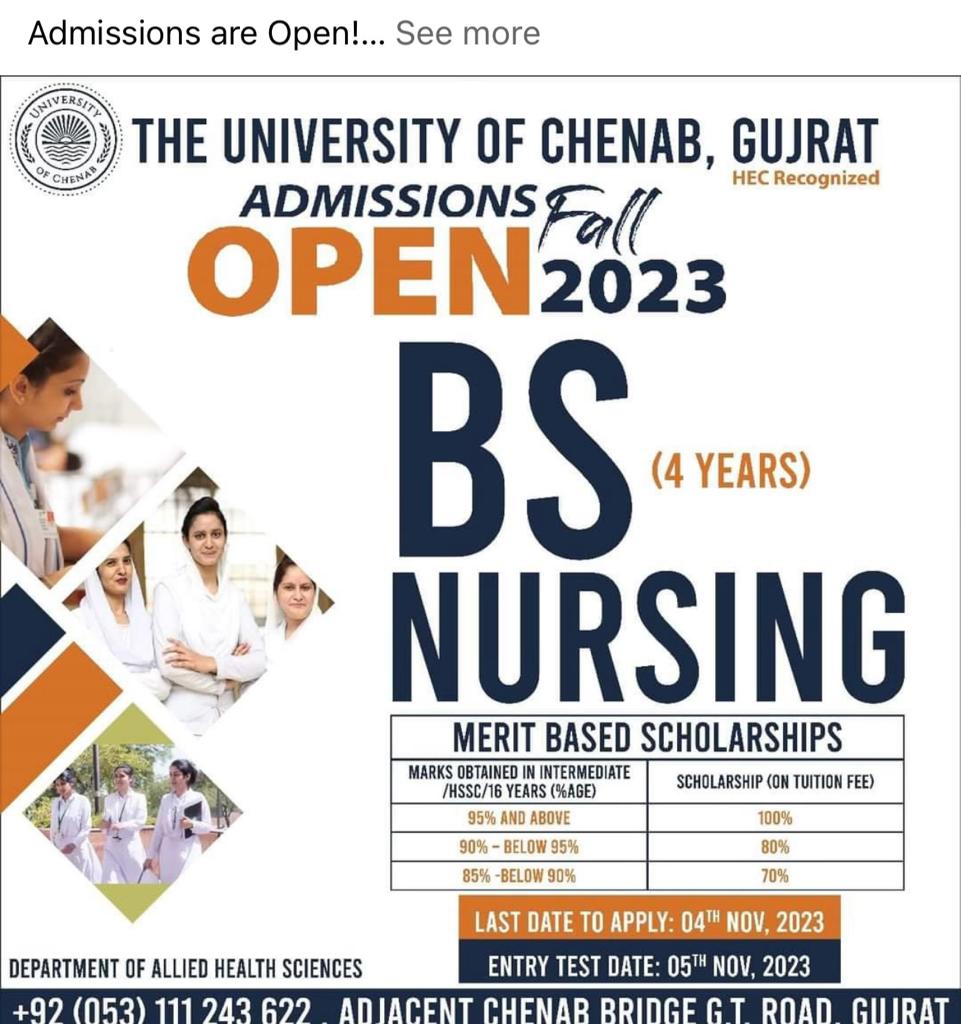 Last Date to apply:
last date to apply is 04 November 2023
Address:
Adjacent Chenab Bridge GT Road Gujrat, Pakistan
+92533 111 243 622