Rawal Institute of Health Sciences (RIHS) was established in 2011. The RIHS provides quality medical education and healthcare services. RIHS includes Rawal College of Medicine, Rawal College of Dentistry, Rawal College of Nursing, Rawal Institute of Rehabilitation Sciences, Rawal College of Pharmacy and Rawal General and Dental Hospitals. Rawal Institute of Health Sciences is committed to creating a world class learning experience for students who enjoy a congenial environment and peaceful premises that internally motivate them to attain the heights of excellence.
The RIHS has plenty to shout about, our alumni employability rate is quiet high. The RIHS has a large community with more than 2000 students travelling from all over the country to study here. Currently, we are in the process of receiving online applications for the session 2021-2022. International students are also encouraged to take up the numerous overseas study opportunities.
The RIHS serve as a world-class learning environment. There are various on-campus amenities to make use of, ranging from fully equipped laboratories, libraries, state of the art hostels, auditoriums, hygienic cafeterias, and student unions, which are open during term time.
Rawal College of Nursing (RCN) is a novice in the nursing arena. It was started in October, 2016 under the umbrella of Rawal Institute of Health Sciences (RIHS) Islamabad.
Programs Offering
Bachelor of Science in Nursing(4 year Degree program)
Post RN BSC Nursing (2 year Nursing program)
Eligibility Criteria for BS Nursing
Qualification: F.Sc. with pre-medical / equivalency (50% Marks)
Matric with science as per HEC requirements
Age Limit: 17-35 Years
Valid CNIC
Gender: Male & Female (Open Merit)
SZABMU Entry test with 50% passing marks.
Eligibility Criteria for Post RN BSc Nursing
Diploma in General Nursing
Diploma in Midwifery/Post Basic Specialization for males in lieu of midwifery Diploma
Pakistan Nursing Council PNC valid registration card/License
Minimum experience of 1 year as Registered Nurse
Gender: Female & Male
Last Date TO Apply
Last date to apply is 31 October, 2023.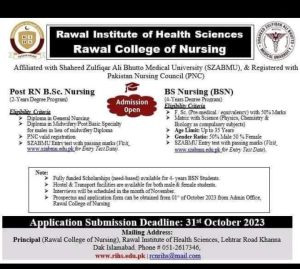 Address:
J4JC+XWP، Main Lehtrar Road, Khanapul، near Ali Trust College، Khanna Islamabad, Islamabad Capital Territory
Rawal College of Nursing
For queries related to BSN & Post RN Programs
051-2617346