Hamdard University is a private research university with campuses in Karachi and Islamabad, Pakistan. It was founded in 1991 by the renowned philanthropist Hakim Said of the Hamdard Foundation. Hamdard is one of the first and the oldest private institutions of higher education in Pakistan.To preserve, and disseminate knowledge by achieving highest level of excellence at par with best institutions of the world.Their mission is to provide a superior liberal education.
To be catalyst to the intellectual growth of the students.
To inculcate high ethical standards in students.
To prepare students future members of the learned professions.
To advance the frontiers of knowledge and contribute boldly to the international community of scholarship.
To help alleviate suffering through, both, sympathy and action.
To provide wide ranging educational opportunities on and beyond our campuses.
Program Offering
Bachelor of Science in Nursing BSN (4 YEAR DEGREE PROGRAM)
Post RN BS Nursing (2 year degree program)
Eligibility Criteria for BS Nursing
Matric with Science (Biology, Chemistry, Physics, and Mathematics) or O Level Certificate accompanied by an equivalency Certificate from Inter Board Committee of Chairman (IBCC).
Intermediate (Pre-Medical) with at least 50% Marks A- Level Certificate accompanied by an equivalency Certificate from Inter Board Committee of Chairman (IBCC).
Both male and female can apply of age limit from 17 to 25 years.
Entrance test
Interview
Fee Structure for BS Nursing
| | |
| --- | --- |
| Admission fees (Once) | 92,000/ |
| Tuition Fees (per semester) | 67,960/ |
| Registration fees | 3,000/ |
| Total | 162,960/ |
Eligibility Criteria for Post RN
Diploma in Nursing
Matric Arts / Science
Valid PNC Registration
Diploma in Midwifery for female and For males: one year specialized course in place of midwifery.
Fee Structure for Post RN BSN
| | |
| --- | --- |
| Admissions fees (Once) | 87,000/ |
| Tuition fees (per semester) | 65,000/ |
| Registration fees | 3,000/ |
| Total | 155,000 |
How To Apply
To create an online application account with Hamdard University Online Application System, you are required to have a valid email address & cell phone.
Please use your Yahoo, Hotmail or Gmail account to create your online application account.
It is advised to create only ONE ACCOUNT for the online application submission. Please note down your sign in details after creating your account i.e. your user name and password information and do not share this with anyone else. You will need these to re-enter the system.
Register at "http://apply-admission.hamdard.edu.pk/" by entering your name, Mobile No. (Will be held by the University only for, email address (please ensure you have entered your active email address) and Password.
You will receive User ID and password through email.Please log-in to Admission Web Portal using your user ID and Password provided through email.Go to the subsequent pages of online admission web portal and complete all required information.Please make sure to upload the appropriate photograph of candidate as mentioned in "Guideline for the Online Application-Photograph".On the last page, Fee Voucher will be generated, mentioning Application ID. along with your information and the fees to be submitted in the designated commercial banks. Account No. and Bank code is also indicated on Transaction Slip which has to be mentioned on the bank deposit slip /challan form (if applicable).Go to the designated bank's branch as mentioned on the Fee Voucher.
Submit the fees as mentioned on the Fee Voucher
Admit card will be available at the admission portal after confirmation of the fee submission by the bank (within 3 working days).Don't forget to bring the print out of your Entrance Test Admit Card at the day of Entrance Test (mentioned in the schedule on admission website).Merit lists of all faculties will be displayed on Hamdard University as per schedule Mentioned in Admission schedule.
Last Date To Apply
Last date to apply is 1st November,2022.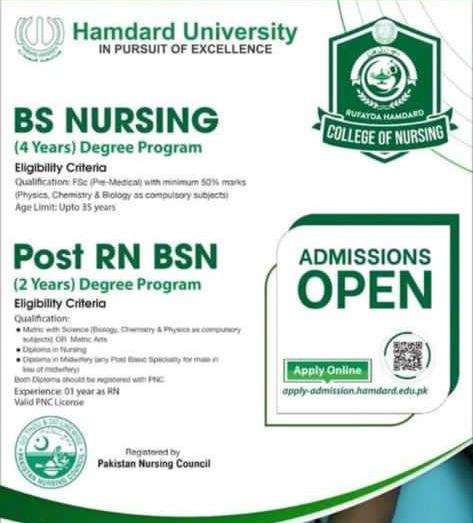 Address:
4-A, Near Nursery Flyover, Shahrah-e-Faisal, Block 6, PECHS, Karachi.HAMDARD INSTITUTE OF MANAGEMENT SCIENCE Karachi