The vision of Al-Fajar College of Nursing Mardan is to progress as a state of the art Nursing College that advances modern methods of academic excellence & community health care, becoming a major source of nursing education in the country. Al-Fajar College of Nursing Mardan is to improve the quality of the life for individuals and society by promoting health, preventing and curing disease, advancing nursing research and education for tomorrow's nurses and health researchers.
Affiliations:
Alfajar College of Nursing Mardan is Affiliated with PNC (Pakistan Nursing Council)
Alfajar College of Nursing Mardan is Affiliated with KMU.
Alfajar College of Nursing Mardan is Affiliated with HERA
Eligibility Criteria for BS Nursing
FSc (Pre Medical) with minimum 50% Marks in Biology, Chemistry, & Physics.
O and A level certification accompanied by an equivalence certificate from the Inter Board Committee of Chairmen (IBCC).
Male and female between ages 17-35
Qualifying on Merit list.
ACN is following the curriculum of Higher Education Commission (HEC), Pakistan for Generic BSN approved by Pakistan Nursing Council
The entire course is spread over four years, which consist of 135 credit.
Students primarily are responsible for their own learning and completion of the scheduled examinations and attendance of all the academic activities.
Fee Structure
| | |
| --- | --- |
| Admission fees (Once) | 50,000/ |
| Tuition fees (per semester) | 110,000/ |
| Admission processing fees | 1000/ |
| Security fees (refundable) | 5000/ |
| Lab activity fees (per semester) | 2500/ |
General Rules and Policies for Students:
The entire building of College and Hospital including washrooms and student lounges have been declared "No Smoking " Students are expected to respect it.
Eating and drinking is prohibited in the classrooms, tutorial rooms, learning resource center, and libraries
Students are expected to dress up in a simple and decent manner at all times and in all settings on Campus. Tight trousers/Jeans, unpleasant shades, and undesirable figures on shirts must be Students are not permitted to use mobile phones in the classroom & clinical areas. If any student is found doing so, his/her mobile will be taken into custody by the concerned faculty/coordinator for at least for one week.
Students are not allowed to promote politics in the
Students are not allowed to use Admin office phone for their personal
Students are not allowed to attend visitors inside the college at any times without
Written authorization from the Principal ACN is required before making any public statement, communication, or correspondence with the press or other media for mass communication.
Last Date To Apply
Last date to apply is 25 December,2022.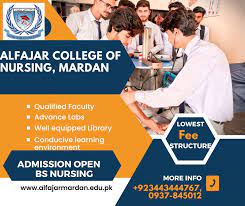 Address:
Near Police Station Chato Chowk Toru Mayar road, Hoti, Mardan, Pakistan.
Phone: 0937-845012