The name of Farooq Memorial Institute of Nursing and Allied Health Swari, Buner is traced back to the name of our late beloved Mr. Farooq Khan who left this temporary word on 25 July 2015, while fighting for long time the colorectal (colon) cancer. He was the brother of Mr. Rafiq Khan(CEO) and cousin brother of Dr. Shah Roz Khan and Ashtam Khan (founding members) and Mr. Jawad Khan (Chairman FMINAHS) of Umbrella Health & Education System, which include Noor Nursing College, Farooq Memorial and Ayesha Girls School& College in Swari Buner.
During his immense disease in various hospitals throughout the country, we keenly observed and realized the great role of nurses who were helping 7/24 the patients in terms of medical services. We were very much impressed by their positive role and intended to serve the deprived people of KPK especially Buner by providing Nursing Education. Farooq Memorial is the result of that intension & Alhamdulillah, today FMINAHS is playing its best role in nursing education in Buner & due to this institute, we hope that our district will be a hub of great Nurses in coming future.
Offering Programs:
Farooq Memorial Institute of Nursing and Allied Health Sciences Offering programs are
BS. N (Generic) 4 Year
Post RN 2 Year.
Eligibility Criteria of BSN (Generic):
Intermediate (pre-Medical) with minimum 50%
Matric with science.
Eligibility Criteria of Post RN:
Diploma in General Nursing
One year post Basic Specialization/ Midwifery.
Scholarship:
Scholarship is available for deserving/eligible students. Scholarship test date is 27 November 2023.
Last Date To Apply
Entry Test date is 28 November,2023.
Last date to apply is 26 November,2023.
Result will announce on 28 November,2023.
Interview: 30 November, 2023.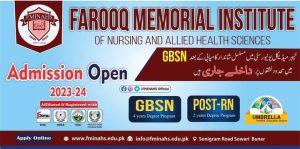 Address:
sunigram Road Behind Public Library GDC Daggar Buner,
0939-555001, 0314-5377531