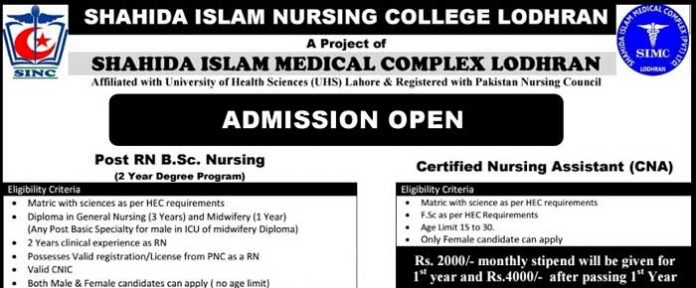 This post was last updated on September 17th, 2019 at 04:36 pm
Shahida Islam nursing college admissions are open for session 2019 in Post Register nurse Bs Nursing ( Post RN)  and Certified Nursing Assistant (CNA). Shahida Islam Nursing College Lodhran (SINC) is one of the best and acclaimed nursing college in the region which was established in 2018. it has become a primary academic nursing college in southern Punjab. Which has excelled in education, outstanding clinical programs, and advanced research.
Furthermore, the main focus of the Shahida Islam nursing College is to train its graduates with the highest level of ethics, professional behavior, and research-based education. So, that they are perfectly competent and have sufficient skills to serve humanity through the best clinical care.
Shahida Islam nursing college admissions Requirement
Post RN Bs Nursing Eligibility Criteria 
Matric with science as per HEC requirement
Diploma in General Nursing (3 year) and Midwifery (1 year) or any post basic specialty for male in ICU of Midwifery diploma 2 year
Clinical experience as RN
Possesses valid registration from PNC as an RN with valid CNC
 Male and female candidates can apply ( no age limit)
Certified Nursing Assistant ( CNA) Eligibility Criteria
Matric with science as per HEC requirement
F.Sc as per HEC Requirement
Age limit 15 to 30 only female can apply
Monthly stipend of RS 2000/- will be given for 1st year and Rs 4000/- after passing 1st year
Admission Schedule
Last Date for submission of application 1 of April 2019
Test Date 06th April 2019
A date for Interview 08th April 2019
Commencement of Classes 15th April 2019
Documents Submission Instructions
Interested Candidates can apply on prescribed admission form along with all relevant documents and payment slip eight recent passport size photographs at the address given below in person. The application form can be obtained from the principal office of Shahida Islam Nursing College on payment of Rs. 1000, Photocopied forms will not be entertained.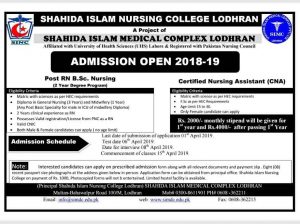 Address and contact information 
Contact Number: +92 (0608) 362211and 0300-8611901
Email: info@simdc.edu.pk
Website: http://simdc.edu.pk/
Adress: Multan-Bahawalpur Road ,100M Lodhran,